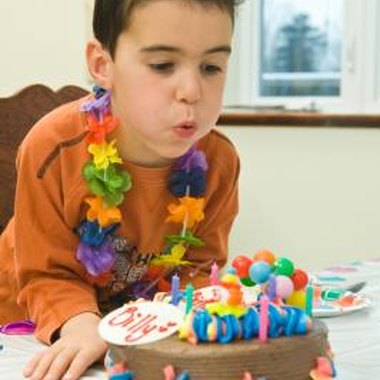 Having a birthday party for a little boy allows you to not only throw a party to celebrate that your son is a year older, but to acknowledge and encourage his personal interests and preferences in the decorations of the party. The way you decorate for this little boy's birthday party can show that you support the unique development of his sense of self. Plus, the decorations should be fun and give all attending guests a sense of excitement about the party once they arrive.
Items you will need
Balloons

Streamers

Paper or plastic tablecloth

Paper or plastic plates

Large photos of little boy with friends

Screw-hook

Hanger

Clothes

Cookie cutters

Cookies

Sandwiches

Colored plates

Cake

Cake decorations
Step

1
Ask the child who is having the birthday what some of his favorite things or toys are. Use his answers to guide you towards the theme of the decorations. For example, the young man might say something to effect of "cars" or "trains" or "bugs"; you can use that as a springboard for your theme. Alternatively, create a theme around a book, animal or movie that he likes. For example, if he enjoys "Treasure Island" or "Peter Pan," build a theme around those imaginative stories.
Step

2
Purchase decorations that contribute to the theme you've chosen. For example, if your theme is bugs, you can buy multicolored streamers and balloons and large tissue-paper leaves and hang large paper and plastic bugs of all shapes and colors around the room.
Step

3
Purchase decorative and play items that revolve around your chosen theme. For example, if this little boy likes dinosaurs and dinosaurs is the theme of your party, make a huge papier-mache dinosaur and hang it from the ceiling, or have a big blow-up dinosaur in the center of the room. You could even have a large sandbox out back and encourage the kids to dig for dinosaur bones (fake plastic ones that you plant there).
Step

4
Select pictures of the little boy and his friends and blow them up, and hang them around the room as posters. Screw a hook into the wall. Hang an outfit of the boy from the previous year on the hook to show how much he's grown.
Step

5
Use cookie cutters with shapes contributing to your theme to press shapes into sandwiches and cookies. Spread your now decorative food items on brightly colored plates and use them as decoration as well.
Step

6
Provide materials for kids to decorate the cake according to the theme. For example, if your theme is dinosaurs, give kids brown and green frosting to cover the cake with, candy rocks, and plastic dinosaurs to arrange themselves around the cake.
References
"Party Ideas for Children"; Jenny Dodd; 2005
Photo Credits
Jupiterimages/Photos.com/Getty Images