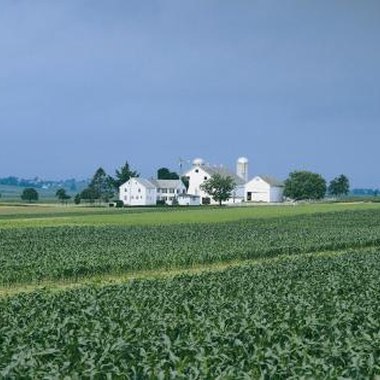 Craft shows are opportunities for artisans to display their works, and for those who love crafts to shop to their heart's content. The city of Lancaster, Pennsylvania is home to multiple arts and craft shows, many of which are held in December of each year. These annual events coincide with the celebration of the holidays and provide shoppers the chance to discover one-of-a-kind home made gifts.
First Fridays
The first Friday in December takes on a uniquely holiday feel as Lancaster's monthly arts event takes place on the streets of downtown Lancaster. Arts and crafts vendors put out their best display of holiday inspired crafts and shoppers can browse stalls for ideas on purchasing last moment holiday gifts. Food vendors are also on hand, as are a variety of boutiques. The First Friday event is open to the public and there is no charge for admission.
Downtown Lancaster for the Holidays
Downtown Lancaster comes alive with twinkling lights, live entertainment and an abundance of arts and crafts booths during the city's annual Downtown Lancaster for the Holidays celebration. The event, which traditionally begins the day after Thanksgiving and runs through Christmas Eve, features arts and crafts displays from craft artists throughout Lancaster County and the state. In addition to craft booths, live entertainment is provided by area bands, and horse-drawn carriage rides are offered as well. The even is open to the public free of charge.
Grandma's Holiday Craft Show
Located in the suburb of Red Lion, just 18 miles from the center of downtown Lancaster, Grandma's Holiday Craft Show is an annual event frequented by craft lovers throughout Lancaster County. The show features the works of arts and crafts artists from throughout the state and offers options for a variety of budgets. The event is open free to the public, however vendors must reserve their spot in advance. Grandma's Holiday Craft Show is traditionally held on weekends beginning in early November and running through early to mid-December.
Saint Philip Holiday Craft Show
The Saint Philip Holiday Craft Show is an annual event that brings arts and crafts artists together with craft lovers from all over the state. Crafts include homemade toys, home goods, gift baskets and edible treats. The event is offered free to the public and is traditionally held in early December of each year at Saint Philip the Apostle Church, located in the heart of downtown Lancaster. Food and children's craft activities are also available.
Photo Credits
Stockbyte/Stockbyte/Getty Images