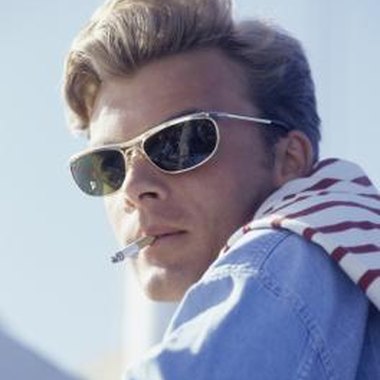 Parties with defined themes lend themselves to well-dressed guests, a predetermined musical playlist and creative foods. Using different decades as party themes will transport your festivities back in time and allow you to plan your party based on the popular styles, tunes and eats of the era.
1920s Party
Celebrate the roaring '20s by decorating the party venue in vintage Art Deco style. Leave plenty of room for a dance floor and create the feel of a speakeasy by requiring guests to know a secret password for party entrance. Encourage female guests to dress in flapper dresses, while male invitees should wear mob-like suits and ties. Plan Italian-style food as dinner fare to increase the mobster appeal of the party, and dance the night away to vintage jazz tunes.
1950s Party
Bring back the sock hop with a 1950s decade party. Decorate the party location in the style of an old diner using a black-and-white color scheme, with splashes of bright colors. Old records or a jukebox make ideal decorations. Ask participants to wear poodle skirts or sport a leather jacket and slicked-back hair in the style of a greaser. Old rock music provides the perfect soundtrack for a '50s party, while guests can much on all-American fare like cheeseburgers and milkshakes.
1960s Party
Party on in the style of Woodstock by hosting a 1960s-themed event. Create a laid-back vibe in the venue by decorating with whimsical flower prints or tie-dye and peace signs. For a coordinated look, ask guests to wear flared jeans, tie-dyed shirts, headbands and long wigs. Provide guests with plenty of music for gently rocking out to by playing Janis Joplin, Bob Dylan and other '60s icons and finish the event with casual dining such as a taco bar or some healthy hippie-style offerings.
1980s Party
The '80s were the age of big hair and hair bands. Celebrate the era by decorating with bright, outrageous colors, or set up the venue to resemble a 1980s high school dance with balloons and a welcome banner. Ask guests to wear their '80s best: teased hair, leggings, sideways ponytails and acid-washed denim jeans. Spin tunes by Cyndi Lauper and Duran Duran while munching on '80s junk food like microwave popcorn and pudding pops.
Photo Credits
David De Lossy/Photodisc/Getty Images