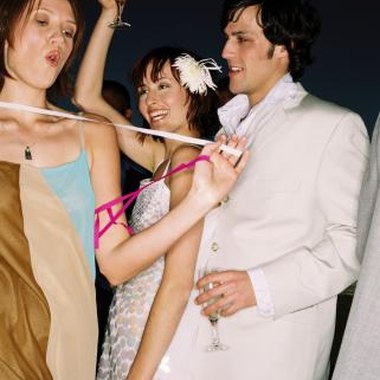 Typical in Filipino culture, a debut party is a fun way for many girls to celebrate passage into adulthood at the age of 18. Once a staple of the upper classes of many cultures, debut parties and Quinceaneras, the Mexican celebration of a 15th birthday party, remain popular ways to welcome young women into adult society.
Traditions
Traditionally, a debut party features a court composed of nine girls and nine boys, friends and relatives of the honored young woman. The debutante and her court typically perform a traditional dance. The debutante also chooses 18 women to be her "18 candles." These women give speeches of good wishes or fond memories of the honored 18-year-old. The debutante also typically gives a speech, thanking her guests and family for helping her over the years.
Themes
Today's modern debut parties often have a special theme that reflects the likes and personality of the honored girl. Beach parties are popular, as well as circuses, fairies or casino nights. Most of the time, debut parties are dress-up affairs, regardless of the theme. In some circles, debut parties are lavish affairs, with catering, servers, extensive decorating and large gifts. However, some teens prefer smaller parties so they can save the money for a car or vacation.
Dancing
In addition to the formal and practiced dances of the debutante and her court, debut parties usually have dancing for all the guests. The 18-year old birthday girl can choose any type of music she likes, although the music is often tailored to the theme of the party. For a formal debut party, the debutante and her partner usually lead a waltz, and traditional music is typically featured.
Dress and Accessories
The perfect dress is one of the most important items for a girl planning her debut party. It's important to choose a dress that is flattering, as well as elegant, for a traditional debut party, or something that fits the theme of the party. A Hawaiian-print dress is perfect for a beach party, while something long and flowing is just right for a fairy-themed party.
Favors
Debut party hosts often give favors, or souvenirs, to their guests as a token of appreciation and a way to remember the event. Favors usually match the theme and tone of the event.
Photo Credits
Stockbyte/Stockbyte/Getty Images