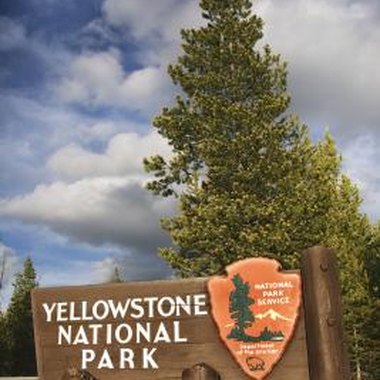 Visitors to Yellowstone National Park have an abundance of options when it comes to sightseeing. In addition to the natural beauty of the park itself, the areas surrounding Yellowstone are rich in history and offer a variety in dining and live entertainment. When planned accordingly, a day in at Yellowstone can result in memories to last a lifetime.
The National Park
No trip to Yellowstone National Park would be complete without a stop to see the wonders of Old Faithful. Old Faithful, a naturally formed geyser located on the Wyoming side of the park, was discovered on September 18, 1870 by members of the Washburn Langford-Doane expedition. Since then, visitors from all over the world have come to witness the geyser's regular eruptions which can shoot 3,700 to 8,400 gallons of water to heights as high as 185 feet in the air at fairly regular 90 minute intervals. In addition to Old Faithful, Yellowstone is home to rugged canyons and and waterfalls that are available for view throughout the park.
Buffalo Bill's Yellowstone Country
Set in the backdrop of Yellowstone National Park, Buffalo Bill's Yellowstone Country consists of the towns of Cody, Powell, Meeteetse and the East Yellowstone Valley, all of which are located within less than one hour of the park. In addition to outdoor activities such as mountain climbing, fishing and horseback riding, visitors may enjoy Dan Miller's Cowboy Music Revue, a western-style show featuring live music and family-friendly humor.
Historical Attractions and Museums
Yellowstone Park is home to several museums and historical attractions that may be of interest to history buffs. Cody Trolley Tours (codytrollytours.com) offers a one hour historical tour through the streets of Cody, which points out the many historical sites and points of interests throughout the city. Cody is also home to the Whitney Gallery of Western Art and the Buffalo Bill Historical Center, which offers insight on the life of Cody founder, Colonel William F. "Buffalo Bill" Cody.
Montana
Red Lodge, Montana, known as the gateway to Yellowstone, is home to multiple kayak, fishing and white water rafting opportunities. In addition to outdoor sports and recreation, the Carbon County Historical Society offers a nightly walking tour of Red Lodge's historic downtown district, which is open to the public free of charge, weather permitting. The city of Big Sky, located in the heart of Gallatin County and adjacent to the entry of Yellowstone Park is home to the Big Sky Food Festival, traditionally held in mid-July of each year. The event features wine tasting, live music and a an array of local food delicacies.
Photo Credits
Thinkstock/Comstock/Getty Images