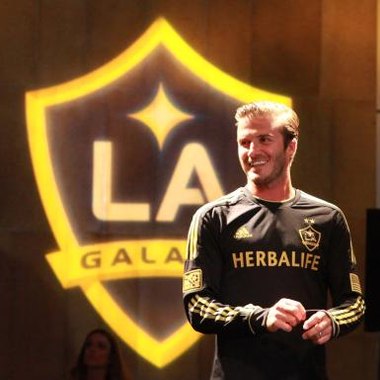 Since his 2007 arrival to Major League Soccer (MLS), former English soccer captain David Beckham has had a profound impact upon American soccer. The midfield maestro, known for his incredible range of passing, accuracy from set pieces and massive off-field profile, was named in 2011 as the world's highest-paid footballer by the Forbes company, thanks to his salary from the Los Angeles Galaxy and significant endorsements from companies such as Adidas.
Raising the Profile
David Beckham's 2007 arrival in the MLS changed the face of soccer in America, topping the news headlines not only in the States, but also in England and Spain, where he had previously played for Manchester United and Real Madrid respectively. This massive media attention raised the profile of the MLS, leading to more fans from across the globe following American top-flight soccer. Domestically, the BBC reported that MLS attendance grew 10 per cent from 2009 to 2010. The media attention attracted by Beckham's move was due to the enormous transfer fee, which was said to be worth over $250 million over the course of five years thanks to his salary and commercial endorsements.
The Beckham Rule
Beckham's arrival from the Spanish capital also provoked a change in the MLS rules regarding salary caps. Previously, MLS clubs were forced to abide by a strict salary cap, meaning that no single player could earn over a certain amount annually. According to the "Denver Post," the designated-player rule is sometimes referred to as the "Beckham rule," after which MLS teams could sign one player above the league's salary cap. As of July 2011, MLS clubs can now sign up to three players above the $2.55 million salary cap; there are a total of 16 designated players plying their trade in the league.
Inspiring Other Players
The influence of the Leytonstone-born midfielder's move to the MLS has inspired other big-name players to cross the Atlantic and complete their careers in American soccer. World Cup winner Thierry Henry and Mexican Rafael Marquez, who earned $5.6 and $4.6 million respectively during their first season, both became "Beckham-rule" designated players and transferred to the New York Red Bulls in 2010.
Revenue Boost
Following his MLS move, David Beckham's No. 23 LA Galaxy jersey quickly became the top-selling replica shirt of all the MLS players. Furthermore, alongside a 10 per cent rise in stadium match-day attendances from MLS fans, Beckham also served to demonstrate that soccer stars in America could earn several million dollars every year, which may have inspired other players, such as Thierry Henry and Rafael Marquez, to move to MLS. Beckham's signing has had a profound effect on the LA Galaxy's revenues. In 2010, the global nutrition-and-skin-care company Herbalife International signed a $20 million shirt-sponsorship deal with the West Coast club. The sponsorship is due to expire at the same time as Beckham's Galaxy playing contract, which was described by ESPN as "not incidental."
Photo Credits
David Livingston/Getty Images Entertainment/Getty Images