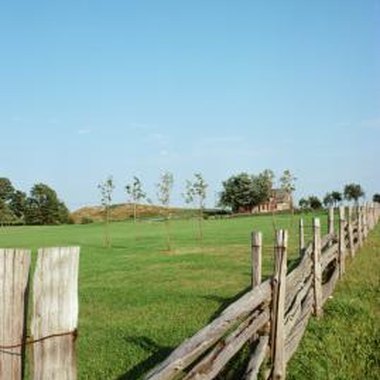 Daniel Boone's name is synonymous with all-American frontiersman. Although he is buried in the Bryan family cemetery in Marthasville, Missouri, with his wife, Rebecca Bryan Boone, Daniel Boone was native to Pennsylvania. His birthplace, the Daniel Boone Homestead (danielboonehomestead.org) is located near Birdsboro, Pennsylvania, and open to visitors year-round.
The Daniel Boone Homestead
The nearly 600-acre farm incorporates the Boone House, Bertolet log house, a blacksmith shop, a smokehouse, a sawmill, a barn, a lake, a visitor center, a picnic area and hiking and bridle trails. In addition to the main house and outbuildings, the Homestead includes the Wayside Lodge, which is available for overnight stays for youth groups. A campground is on site as well. Costumed actors depict the lives of 18th-century Pennsylvania settlers. Serving as a wildlife refuge, visitors view many species of local animals and birds. The park is just off U.S. Route 422 north of Birdsboro, near Reading, Pennsylvania.
Origin of the Homestead
Born in 1734 to first-generation English-German settlers, Daniel Boone grew up in a log house, which was expanded from a small log cabin his father originally built. When the Boone family migrated south, William Maugridge, a relative, bought the property, and when he passed away, John DeTurk, purchased the property and remodeled the house, removing the remaining log-cabin walls. The Boone-Maugridge-DeTurk stone house is open to visitors on a guided tour.
Saving the Homestead
Local farmers kept up the land following DeTurk's death. In 1937, the state purchased the property, which is now the largest historic site administered by the Pennsylvania Historical and Museum Commission. The buildings were restored and decorated with furnishings of the period. A cabin, built between 1737 and 1750, was moved to the Homestead property in 1968. The structure, originally owned by the Bertolets, who were relatives of the Boones, is an example of the typical German log architecture influenced by European settlers. In 1972, an 1810 water-powered, vertical-blade sawmill was relocated to the property, preserving the authenticity of the historic lifestyle.
Tours and Events
The Homestead is open year-round. Self-guided and guided tours are available that allow visitors to experience life during the time of Daniel Boone on the frontier farmlands of eastern Pennsylvania. Original 18th-century furniture and tools fill the homes, sawmill and blacksmith shop. Celebrations such as Heritage Days, Boone's birthday, holidays and demonstrations, such as hearth cooking, dairying and basket weaving are held regularly at the historic site. There is an admission fee and group discounted rates. The visitor's center offers a free exhibit area, a short film on the life of Daniel Boone, a gift shop and the information/ticket desk.
Photo Credits
Photos.com/Photos.com/Getty Images