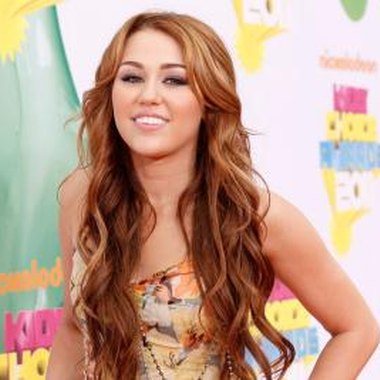 Videos featuring synchronized dance moves for pop songs are nothing new, and the dances often look often look so fun that you want to learn them for yourself. In addition to helping to keep you in shape, copying dance moves from pop videos will also help you learn to keep time and move to the beat of the music should you feel rhythmically challenged. Start with fairly easy dance steps, such as those featured in Miley Cyrus's video for "Party in the USA," before moving on to more difficult moves.
Step

1
Begin the dance at the chorus, which starts "I put my hands up/They're playing my song/the butterflies fly away." Stand with feet shoulder width apart and cross your arms in front of one another, then immediately throw your arms up and shake them while lifting your left leg off the ground twice to the beat of the music.
Step

2
Move your arms simultaneously down in front of you and move them from right to left. Dip half your body down and immediately snap back up with arms folded in front of you in a hunched position. All of these movements should come together as one fluid movement.
Step

3
Keep arms in the folded position as you move your hips back and forth to the music. Keep your arms in front of you and perform a slow "speed bag"-like move in a slightly bent-over position while continuing to move your hips and your feet back and forth.
Step

4
Keep your right foot in place as you use your left turn to help you turn to the beat of the music. As you make this movement, move your left arm up and down in a "too hot" type of movement. Bounce as you move your hips up and down while keeping legs bent and arms up at a 90 degree angle. Make another turn and throw your arms in the air, taking thiss time to free style to the music's rhythm.
Step

5
Repeat the movements in Steps 1 through 4 and add additional hip shakes and throwing your head around.
Tips & Warnings
Other Miley Cyrus videos featuring synchronized dance moves include "Can't Be Tamed" and "Fly on the Wall."
References
Resources
Photo Credits
Christopher Polk/Getty Images Entertainment/Getty Images