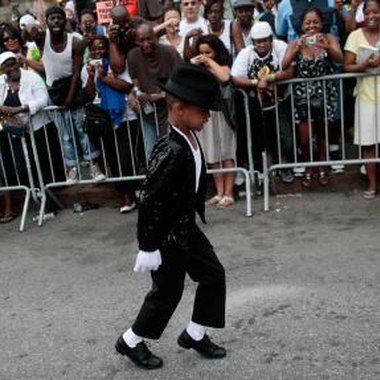 Michael Jackson started off as a young singer in a group with his brothers, The Jackson 5, but his dance moves as well as his singing propelled him into the spotlight. Over the years, Michael's concerts and music video sequences revealed new moves that other dancers attempted to emulate. Although several of Jackson's dance moves have become famous, only one move was actually patented with the U.S. Patent Office.
The Robot
When The Jackson 5 performed their popular song "Dancing Machine" on "Soul Train" in 1973, Michael Jackson began popping his arms and legs in emulation of a robotic device. The technique quickly became a popular dance move and has been seen across hip hop and pop music platforms to this day. Michael Jackson's arresting dancing style first came to the forefront when he presented this signature technique at an early age.
The Moonwalk
Michael Jackson performed a smooth move so otherworldly that he appeared to glide on the stage during the "Motown 25: Yesterday, Today, Forever" television special in 1983. Jackson used the move, dubbed the moonwalk, regularly when performing his hit "Billie Jean." With a simple trick of his feet upon the floor, Jackson slid back and forth around the stage, appearing to walk forward while being dragged backward. The circle slide was another form of the moonwalk that Michael also worked into his dance routines.
The Toe Stand
Michael Jackson's often punctuated signature moves with an even move ridiculous move, such as a pelvic grab or toe stand, which became a favorite finishing touch for the moonwalk. Jackson spun and pivoted on stage, then suddenly popped up on the toes of his shoes to hold for seconds at a time. The toe stand signified Michael Jackson's stage personality, which was surprisingly playful but always spectacular.
The Anti-Gravity Lean
The attempt to defy limits was one of Michael Jackson's greatest contributions to dance. His signature anti-gravity lean was an example of how he attempt to move his body in such a way that audiences would initially see the move as impossible. This trick actually needed assistance. In his movie "Moonwalker," a harness and wires aided Jackson for his leaning dance move. On stage, he stepped on a specific part of the floor that clipped onto his shoes and held him in place as he leaned left and right. His shoes actually required a special design to support the anti-gravity spell. Unlike other dance moves, Michael Jackson actually filed a patent for the anti-gravity lean.
References
"History Past, Present and Future Book I;" Michael Jackson; 1995
"Michael Jackson: An Exceptional Journey;" Michael Jackson; 2002
"Michael Jackson, the King of Pop: The Big Picture: the Music! the Man! the Legend! the Interviews!"; Jel Jones; 2005
Photo Credits
Chris Hondros/Getty Images Entertainment/Getty Images