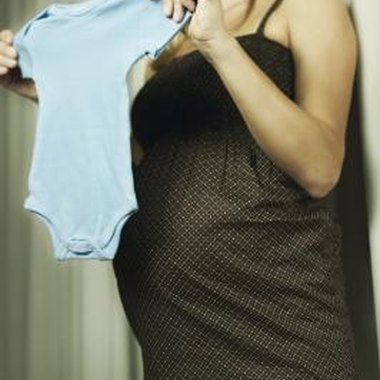 Having a baby is an exciting and overwhelming time. Pamper the new mom in your life with a special baby shower, beginning with an original, customized onesie invitation. Your creativity is the only limit when designing your one-of-a-kind invitation. If the mom-to-be already knows the sex of the baby, choose traditional colors, or incorporate environmentally-friendly materials for the eco-conscious mom. The invitation will certainly be cherished and placed in baby's memory box for years to come.
Step

1
Create clothesline-inspired invites. Start with a plain rectangular or square piece of card stock. Glue a ribbon in the color of your choice about 1 inch from the top across the card to represent a clothesline. Cut out or purchase small die-cut onesies in various colors and glue three onto the ribbon, as if they were hanging on the clothesline. Fasten small clothes pins from the top of the invitation to hold the little onesies on the line. Print or write your invitation wording by hand on the lower section of the card.
Step

2
Order pre-printed invitations. These can feature onesies on a clothesline or an outline of a single onesie. Compose and print creative wording on the invitation, such as an original poem or rhyme.
Step

3
Cut out a large onesie-shape from cardstock or heavy construction paper to use as an invitation. Decorate the outfit with ribbon, buttons or bows. Write your invitation details on the body of the onesie.
Step

4
Cut out a strand of onesies with scissors, reminiscent of old-fashioned paper dolls, and decorate them with markers, ribbon or buttons. Print your invitation wording across the length of the cut-outs.
Step

5
Purchase a onesie for each guest that you will invite to the shower. Write your invitation by hand directly on the fabric with washable ink, or simply pin on a card with the invitation printed on it. Decorate each onesie by sewing on bows and ribbons or adding a monogram. The guests can bring their onesie invitations with them to the shower and they can then be washed and used for the new baby.
Photo Credits
Jupiterimages/Brand X Pictures/Getty Images