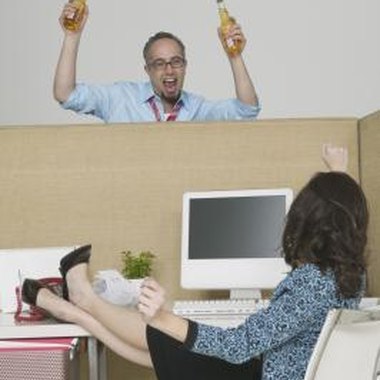 Cubicles were introduced to U.S. offices in the 1960s and have remained a mainstay as an economical way to provide office space, notes David Franz in "The New Atlantis." Although typically you would expect to see hard-working individuals, large computer screens and coffee mugs in this space, an office also occasionally hosts parties. When choosing a theme for an office party, consider ideas suitable for this space that appeal to all colleagues so nobody is bored or offended.
Karaoke Party
Rent a karaoke machine and get the party started. Choose the desk in a central cubicle as the scene and gather all colleagues around it. Include spotlights to create atmosphere. Choose a few songs or ask colleagues to make a top five list of their favorites and include at least two from each list. Create a songbook with the lyrics of each song in the karaoke play list. Place a copy of the songbook in a separate cubicle that serves as the rehearsal room. Choose a more specific theme, such as the music of the '70s or the '80s, and ask colleagues to dress accordingly. Reward participants for the best/worst performances and funniest impersonations. Dry snacks such as popcorn, chips, jelly beans, dry fruit, or foods that can be stabbed with a fork or a toothpick work well for a karaoke party because singers can grab these in-between songs. Avoid garlicky dips or other foods that cause bad breath and stick to salty and sweet snacks.
Golf Party
Organize a golf-themed party that appeals both to golf aficionados and nongolfers in the office. Decorate cubicles with white and green balloons, put golfing posters on walls and place artificial turf on floors. Order a cake that looks like a golf course: all green with hills and a few holes and flags. Serve hot dogs, pizza, nachos and veggies with dips. Spread the word about the party, creating a social media group, and ask everyone to come in golf outfits. Accessorize with golf clubs or rent a golf cart for the day, which can be driven around the office. Bring in miniature golf game sets. Play virtual golf or golf celebrity trivia. Give out prizes such as golf clubs, shirts, hats or club memberships.
Super Hero Party
Allow everyone in the office to break out of the ordinary and dress up as super heroes and heroines. Decorate cubicles with pages from comic books, masks, funny newspaper headlines, colored balloons and inflatable mini super heroes. Each cubicle can feature a single super hero and be decorated accordingly. Serve super hero-sized sandwiches and an action hero cake. Organize a contest to decide on the best costume, and play darts and dance to super hero movie soundtracks.
Beach Party
Hold a beach party in your office no matter what the weather outside. Getting in a warm-weather mood is relaxing, and it's easy to find the right outfits: Hawaiian shirts and shorts for men and grass skirts for women, plus flip-flops, flower necklaces and sunglasses. Decorate cubicles with shells, posters with beaches and sunsets, tiki torches, inflatable palm trees, beach balls and comfy chairs or hammocks. Place sand and buckets in a cubicle space so attendees can build sandcastles. Play games such as virtual surfing, fishing or beach volleyball. Install play stations with specific beach activities in several cubicles so people with similar interests gather in the same spot. Play music that puts everyone in a summery mood.
Photo Credits
Brand X Pictures/Brand X Pictures/Getty Images