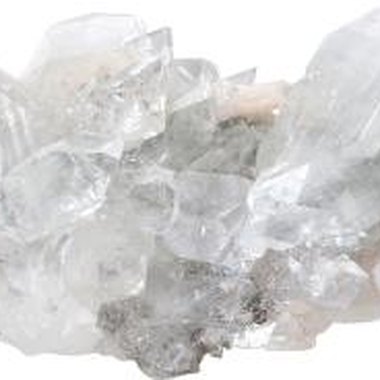 Kalama, Washington, is a small town along the Columbia River in western Washington. The town is best known by outdoors adventurers for mountain scenery and fishing in the Kalama River, which runs through the north end of the town. Rock and gem hunters, though, are drawn to Kalama in search of the minerals and crystals along these rivers and mountainsides.
Crystal Minerals
The Kalama area is known for colorful gem quality agates, jasper and petrified wood, but crystal minerals may be found there too. Crystals in the region are often a white to clear variety. Mesolite crystals, a needle-like crystal, occur in bunches called "puff balls." Glassy zeolite and apophyllite crystals all occur in the region as well. Milky to clear quartz and calcite crystals are often found inside of geodes or on slabs of broken geodes. Occasionally amethyst crystals or an amethyst lined geode can be found, but these are rare.
Where to Look
Road cuts often contain crystals and agates. Some of the cuts are removed far enough from road traffic to be safe for hunting. Hunt gravel bars along the rivers and streams, as well as the bottom of escarpments or steep hills, which often contain material that falls from higher up. If you go uphill from fallen rock, you may have to dig or chisel specimens and geodes from rock walls. To do so you will need a rock pick, chisel and small shovel. Wear safety glasses when using a pick and chisel to loosen crystals from rocks.
Green Mountain Rockhound Area
As of summer of 2011 the Green Mountain area is open again, but only with explicit permission from Longview Timber, the property owner. This rule applies to all of their property in Kalama and Longview. This popular rockhound region had been closed because of destruction being done to the property, so rock hunters must now follow strict rules for access. The land bears a number of crystal minerals and crystal-filled geodes. Oregon and Washington rock and gem clubs often have field trips to Green Mountain that you could join for easier access to the location. You may get permission to hunt from the Longview Timber office in Longview, just West of Kalama on Highway 5.
Crystal Sites Close to Kalama
Other good crystal sites are not too far from Kalama that you might be interested in exploring too. Crystal minerals can be found North of Kalama in the Silver Lake region; the train track bed near the lake is one spot to start exploring. Southeast of Kalama, off of Interstate 5, crystalline minerals can be found Lackamas Lake North of Camas. At Crater Creek, north of Carson, geodes are lined with quartz and calcite crystals. Wherever you are in the mountains and streams in and near Kalama, you stand a good chance of finding crystals if you look closely for them.
Photo Credits
Zedcor Wholly Owned/PhotoObjects.net/Getty Images