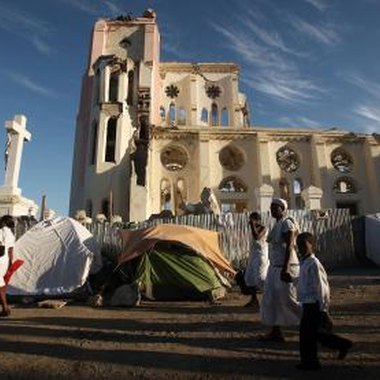 After the earthquake in Haiti, survivors found themselves forced to sleep in the open, exposed to the elements, unsanitary water and bugs. Because the the intensity of the earthquake, homes, hospitals and hotels were destroyed. Rebuilding has been slow, forcing Haitian survivors to sleep where they can find space. Canadian volunteer groups have teamed up to use empty milk bags to crochet bed mats for the survivors in Haiti.
The Milk Bag
Dairy milk in Canada is packaged in plastic milk bags, then sold to consumers. The milk bags can be recycled and used for other purposes, such as crocheted mats for the homeless in third world countries. One milk bag holds about 100 ounces when full. The milk bag is constructed of an outer milk bag with three clear bags inside.
The Milk Bag Initiative
Different groups in Canada began the milk bags for bed mats initiative after the earthquake in Haiti. Earthquake survivors have been forced to sleep on reed mats or on the bare ground, risking cuts from the reed mats or stings from insects on the ground. In the Ottawa province, workshops have been arranged that teach volunteers about this initiative, how to donate milk bags and crochet them.
Benefits for Recipients
Because earthquake survivors are sleeping in open-air shelters on the ground, they need a portable, easily washable bed mat that protects them from biting insects, cuts from reed mats and the dampness of the bare ground. Medical and surgical teams in Haiti use the mats as well. After the mat has been crocheted, it is used as wrapping material in packing containers sent to third world countries like Haiti. These milk bags take years to decompose, so recycling them and using them for a beneficial purpose helps, not only the environment, but the recipients of the bed mats.
Making the Mats
One mat is made up of about 250 milk bags. Before the milk bags are cut into strips, donors wash, dry and fold the mats. After the mats have been donated, volunteers cut both ends off the bottom and top. The bag is then cut into a long strip -- or loops that are strung together. The volunteer then uses crochet hooks sized from K to N and crochets a foundation chain 30 inches long for a child's mat or 36 inches long for an adult's mat. After crocheting the foundation chain, she single-crochets each row until the child's mat is approximately 48 inches long and the adult's mat is about 60 inches long. Because the plastic is more resistant than regular yarn, the mats are crocheted with big loops so single crochet stitches can be more easily made as each row is worked. At the time of publication, volunteers have crocheted and sent over 700 bed mats, 72 tote bags and 168 teddy bears made from milk bags.
Photo Credits
Mario Tama/Getty Images News/Getty Images