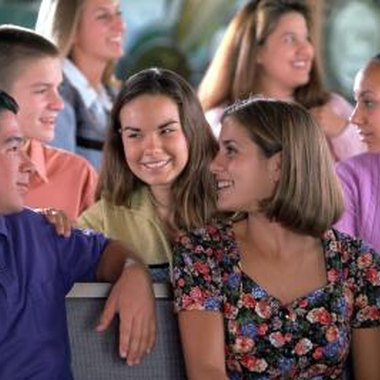 Youth group activities are good times of fun and fellowship. Because most youth groups meet fairly regularly for fellowships, parties and other activities, things may tend to become boring or routine. Incorporating themes and new games when planning parties can add some new life and excitement to the youth group activity.
Planning
An easy way to plan activities for a youth group party is to choose a theme. You can plan the menu and activities around a theme such as Western, '80s, International, Historical Characters or Professions (dress-up), Detective -- the possibilities are endless. Choosing a theme helps to define the scope of the menu and activities and can make planning and decorating much simpler.
Food
If you have decided to have a themed party, plan the menu to go with it. For Western, serve burgers, barbecue and baked beans. For International, serve cuisine from around the world (nachos, spaghetti, rice dishes, etc.) If you have a wide variety of food interests in your youth group, the international theme is one way to make sure that there is something for everybody.
Games
Plan games that match the theme you have chosen for the party. For example, for a party based on historical characters, have each youth dress up as someone from the past and write a few sentences describing his character on a slip of paper. Put the descriptions in a basket and have someone draw and read a description aloud. Players must guess who the character is and who the youth depicting him is.
Other Activities
Depending on the makeup of your youth group, some young people may prefer to just mingle and talk while eating. If you don't want to schedule games that require everyone to participate, set up "game stations" throughout the party location so that teenagers can choose what they want to participate in. Inside-game stations can include cards or board games, while outdoor stations might include flying discs, flag football, soccer or volleyball. The main thing to keep in mind when planning activities for a youth group is what the young people will enjoy most and what will enhance friendship building and good times.
Photo Credits
Brand X Pictures/Brand X Pictures/Getty Images