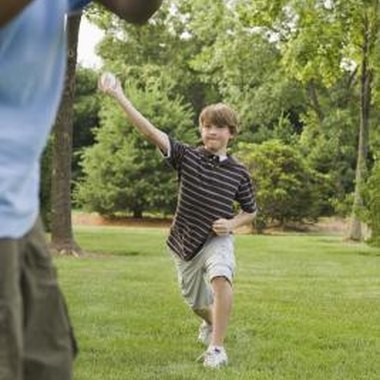 Sports-themed parties promise good times for kids and adults alike. Start your party off right by sending creatively worded invitations reflecting the theme of your party. Invitations often begin with a play on words by combining sports-associated terms with general party invitation language. To start, make a list of words related to the sport or sports highlighted at your party.
Creative Catch Phrases
Party invitations often start off with a catch phrase near the top. This phrase typically reflects the theme of your party. For a sports-themed party, you can use "Score! It's a Party!," "Come and Catch the Game!" or "Let's Play Ball!" Underneath your invitation's catch phrase, specifically state whether your party is a birthday party, sports-event party or another type of celebration, such as a retirement or graduation party. For example, add "Celebrate Jack's 7th Birthday" or "Super Bowl Party."
Specific Sports
Try language associated with specific sports and games on your invitations where you can. If your party is basketball themed, try using "Let's Hoop It Up!" and, to list the time your party starts, "Tipoff Begins at 6 p.m." For a football-themed party, try "It's Food, Fun and Football!" and list the time by saying "Kickoff at 4 p.m." Golf-themed party invitations can use "Tee Party" as a catch phrase and "Tee Time: 2 p.m."
Ticket Invitations
Sporting events require tickets to attend. Consider making your invitation into a ticket. Label it "Event Ticket," followed by a more specific description of the party, such as "Teeing Off For Jack's 50th Birthday" if you are throwing a golf-themed party. If your sports theme is basketball or baseball, you can fill in a "Seat Assignment" space on your ticket with your party's address. When listing your party's start time, try "Doors open (or "Gates open") at 5 p.m."
Creative Details
In addition to the time your party begins, use sports catch phrases to include other essential party details on your invitation. For your party's date, you might use "Game Day: March 5th." When listing your party's address, you can use "Home Field: 123 Happy Lane." Or, use your last name as if it were the name of a stadium: "Smith Stadium: 123 West Place." If an RSVP is required for your party, use the phrase "Please Reserve Your Seat" or "Confirm Your Ticket" and list your phone number or email address.
Photo Credits
Jupiterimages/Comstock/Getty Images