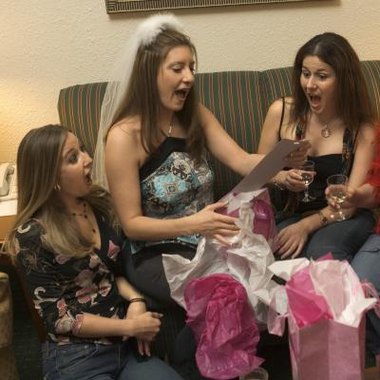 Wedding invitations are meant to be fancy and formal, but bridal shower invitations give you an opportunity to go a little wild. Unique shower invitations are available to purchase, but you may discover that the most creative will be ones you make yourself. Whether you throw a bridal shower with a theme or one to complement a bridal registry, make your invitation a prelude to the shower and a hint of the fun to come.
Cocktails
Themed wedding showers provide an easy structure within which to plan details. For a cocktail party, include a wine glass charm with each invitation. Charms are as simple as a cute paper tag with the guest's name printed on it or as elaborate as jeweled and wired pieces. If you aren't too concerned about the cost of postage, print simple invitations from your computer and paste to lightweight coasters made of cork. You can also print invitations on colorful paper and cut out in the shape of a martini glass.
Recipes
For a bride who loves to cook, hand write invitations on recipe cards and include one or more blank cards for guests to write a favorite recipe. Collect the cards at the party and present to the bride in a pretty container as a keepsake of her shower. You can also use a software program with preset designs to create a kitchen-themed invitation. Include a few sheets of fun stationary with invitations and ask guests to print out or write recipes to collect into a recipe book for the bride.
Garden
For a garden party, photographs of flowers or gardens make a unique invitation. Glue to a piece of heavy paper or card stock and print your invitation on clear vellum that you cut just a little smaller than the photograph. Lay the vellum on top of the photograph and punch two holes near the top of both pieces. Tie them together with a colorful ribbon. Purchase or create thin matting for your photographs -- a 4-by-6-inch photograph works best -- and hand write your garden party invitation directly on the matting all the way around the photograph. Glue the photograph and matting to thin card stock.
Green
Throwing a green shower for an eco-conscious bride is a great opportunity to be creative with reused and recycled objects. Print invitations on recycled paper or on postcards you can purchase with embedded flower seeds. After guests receive their invitations, the biodegradable postcards are simply planted to produce a small flower garden.
Photo Credits
Thinkstock/Comstock/Getty Images