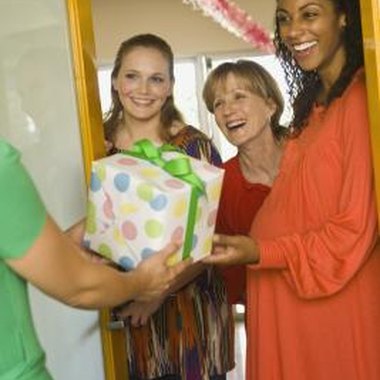 Whether you are hosting a baby shower or just attending one, put together a creative gift individually or with other shower guests. Make the expectant mother's shower a successful occasion by giving her a gift that will help her better prepare for the arrival of her little one.
Diaper Cake
Give a baby shower gift that is very useful and creates quite a conversation piece. Put together a diaper cake for the expectant mother that involves actual diapers being rolled together into what appears to be the tiers of a cake. Stack the tiers from largest to smallest and wrap each tier with decorative ribbon in a color or pattern that suits the baby on the way. Add useful baby items to the diaper cake by attaching each gift to the ribbon. Gifts to add include baby washcloths, baby powder, pacifiers, small stuffed animals, rattles and baby lotion.
Baby Tree
Give a mother-to-be a small tree to be planted on the day of her baby's birth. The proud parents can watch as both the child and the tree grow over the years. The tree can serve as a constant reminder of the day the child was born. Adorn the tree with small baby gifts like booties, bottles, pacifiers, washcloths, rattles, teething rings and sample-sized toiletry items like baby lotion or powder. You can also assign each guest to bring a gift to tie onto a branch of the tree with ribbon.
Mother-To-Be Bag/Survival Kit
Put together a gift that every expectant mother relies on. Pack a mother-to-be hospital bag or survival kit full of all the essential items that a woman may need during or after labor. You can have each guest bring a different item to put in the bag or you can create the gift all on your own. The survival kit should include items like a stopwatch to time contractions, soft socks, chap stick, a headband, breath mints, gum, back massager and a relaxation music CD.
Clothes Line
Shower a mother-to-be with a variety of baby clothing. Present this gift in a creative fashion by hanging each piece of clothing onto a makeshift clothes line. First purchase baby clothing like onesies, pants, T-shirts, pajamas, bibs or socks. You can also ask each baby shower guest ahead of time to bring a piece of clothing to add to the clothes line. The clothes line can be hung up somewhere at the location of the baby shower to display the many clothing gifts for little one on the way. All you really need is a thin piece of rope or a thick piece of ribbon. Make sure to give the mom-to-be all of the clothespins on the clothes line as well.
Photo Credits
Jupiterimages/Brand X Pictures/Getty Images