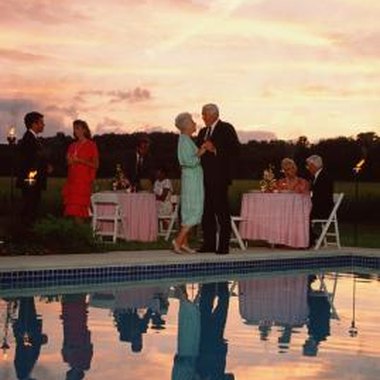 When you reach the 50-year milestone in your marriage, it's time to celebrate -- cupid's arrow really hit the mark. Put together an invitation list of the friends and family whose lives have touched yours over the years and let your creativity guide you in planning a party that honors your time together as a couple.
Make it Golden
Decorations set the tone for your guests, and trimming the party room in gold for your Golden Anniversary is an elegant beginning. Make simple centerpieces with tapered gold candles set on small mirrors and sprinkled with metallic confetti. If you plan a sit-down meal, insert your guests' place cards in small, gold picture frames they can take home as mementos. Be sure to include a set of gold-rimmed champagne glasses to properly toast your long-lasting marriage.
Worth a Thousand Words
Not all of your guests know your entire history as a couple; treat them to a display board of pictures or a slide show. Collect your favorite photographs of meaningful experiences like your wedding, honeymoon, first home, first car, trips or children and use your natural humor and intelligence to tell your story. While you do this, take some notes on the memories that come up; you'll need them for another part of your party.
Time Capsule
A lot happened in the world during your fifty years of married life; your anniversary party is a good excuse to take a walk down memory lane. Start with the first year of your marriage and skip up by decades to the present, compiling a list of noteworthy events and people from along the way. Consider including political leaders, the cost of common items like bread or gas, the first walk on the moon, or hair and clothing styles. Supply each table with several printed copies of your list; your guests will enjoy reading them during the dinner.
Music
Basketball coach Red Auerbach said that, "Music washes away from the soul the dust of everyday life." Put together a list of songs and bands that were popular during the first years you were together and hire a band, a deejay, or compile a CD highlighting those tunes that touched your soul. Don't forget to dance!
Stories
It's good to remember that your 50 years of marriage started with an all-important first date. Set time aside after the meal or cake to reflect on your years together. Use the notes you took or simply recall the things that attracted you to each other, where you went on your first date, and how it was to "meet the family." Describe wedding highlights and tips for keeping a marriage strong.
Photo Credits
Jupiterimages/Photos.com/Getty Images