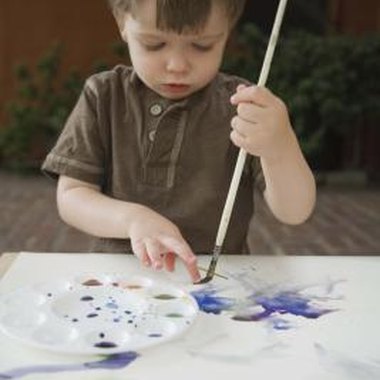 Toddlers can learn the story of creation through listening to Bible stories, seeing visual aids and pictures, and also through hands-on crafts. The story is told in the book of Genesis chapters 1 and 2. Crafts for the creation story can include all the things God made, what he made on any of the six days of creation, or just one or two things that God made.
Finger Painting
Let toddlers get their hands right into this craft. Have them each finger paint a picture for each day of creation to make their own book or paint part of a classroom mural. On each page or section, write the day number and what God created on that day. Draw simple figures or areas for the child to paint. Day 1, "Light from darkness." Toddlers can simply paint black for night and yellow for day. Day 2, "Sky." Let toddlers paint a blue sky. Day 3, "Land, seas and plants." Draw large flowers for them to finger paint any color. Day 4, "Sun and moon." Draw a crescent moon and round sun to be painted yellow. Day 5, "Birds and fish." Draw simple fish and birds to paint. Day 6, "Animals, man, woman." Draw animals, a man and a woman.
Mosaic Pictures
Give each toddler a picture or cutout of something from the day's lesson, like fish and sea creatures. Provide an assortment of fairly small pieces of paper in many different colors and glue sticks. Allow toddlers to glue paper pieces onto the picture as they wish. Encourage them to say the names of the pictures they are creating to be sure they understand that God created each of the items.
Cookie Cutter Cutouts
Gather enough plastic cookie cutters for toddlers to press and cut out some creation items. Animals, fish, birds, flowers, trees, moons and stars are some ideas of cutter shapes to use. Let the children press figures from pieces of bread, edible dough or thin layers of gelatin. If desired, have them sprinkle colored sugars or powdered gelatin onto the cutouts. They can also press cereal pieces into the figures for facial features, feathers, fish scales and other details.
Puppets
Puppets help toddlers re-enact stories they have heard. They can make puppets to play with and retell the creation story. Cut out large creation objects from craft foam. Encourage toddlers to use crayons or washable markers to decorate the foam shapes. Tape a figure onto the top edge of a paper towel tube for the children to use as a puppet. Paper bags are another easy-to-make puppet material. Tape a decorated foam shape onto one side of an upside-down lunch-sized paper bag. Show toddlers how to put their hand into the bags to manipulate the puppets.
References
"Spur-of-the-Moment Crafts," Mary J. Davis, 2004
Resources
"5-Minute Sunday School Activities" series, Mary J. Davis, 2004
"Teaching Children Memory Verses" series, 2005
Photo Credits
Jupiterimages/Comstock/Getty Images