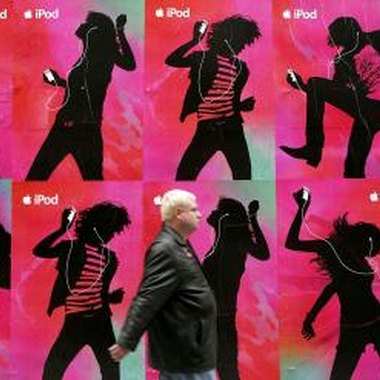 Laptops come with freedom to upload and edit documents and photos anywhere. Whether you need to finish a project for school or you want to post something immediately to your blog, laptops work even more photo magic with an image editing program installed. If you want to make your own silhouette, take a full body movement shot before going into the editing process.
Step

1
Take a photo of yourself with your laptop's camera or find an image to use for your silhouette. Open the image in a graphic software program like Adobe Photoshop, GIMP or Corel's PaintShop Pro. Each program is available as an online download.
Step

2
Click on a selection tool such as "Lasso" or "Magic Wand." Create a dotted border to select around the area for a silhouette. For instance, draw a border with the selection tool around the body of a subject in the photo.
Step

3
Right-click and select "Invert Selection" or go up to the image menu at the top of the program and find the invert selection tool. Once your selection inverts, the rest of the photo is now selected. Press "CTRL" and "X" to cut out the background.
Step

4
Use the "Threshold" tool to create a black silhouette of your subject. Alternatively, set the image colors to grayscale or lower saturation to zero. Then, select "Brightness/Contrast" and move the contrast up while bringing the brightness down until you have a black silhouette.
Step

5
Click on the "Airbrush" or "Brush" tool and set the foreground color to black. Set the opacity to 100. Paint in any white areas or smooth around any jagged edges. Set the brush size to smaller and zoom in to paint around hard-to-see edges.
Step

6
Click on the "Fill" or "Paint Bucket" tool. Set the foreground color to any color if you want to change the silhouette. Click inside the black silhouette to fill with a different color.
Step

7
Save your silhouette by pressing "CTRL" and "S" once finished.
Photo Credits
Justin Sullivan/Getty Images News/Getty Images