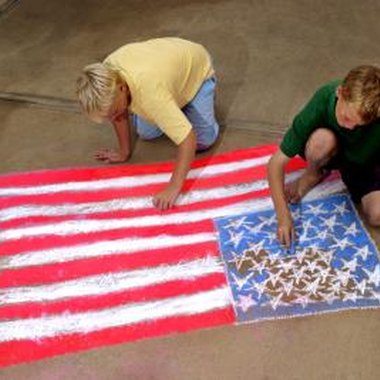 Artists who make sidewalk art often create it from art materials that most people have used since childhood — a few large pieces of chalk. What these drawings lack in permanency, they make up in visual brilliance. The art medium attracts artists of all age levels and abilities with some artists creating eye-popping, three-dimensional works of art. However, since it's a forgiving medium that will likely be wiped away before the next rain, this project is appropriate for kids who want to express their artistic tendencies using the sidewalk in front of their house or by their school as a canvas.
Items you will need
Sketch pad

Pencils

Broom

Hose

Large pieces of chalk

Paper towels

Small pieces of chalk
Step

1
Ask your kids to come up with ideas for their sidewalk art by creating sketches of the designs they'd like to draw. If you're working with a class of kids and want this activity to correlate to one of the lessons you're working on, ask them to choose subjects related to the lesson. For example, if you're reading "Little Red Riding Hood" to them, they can use the story's theme to come up with ideas.
Step

2
Prepare the area you're working on by sweeping the sidewalk of any large dirt particles.
Step

3
Spray off the sidewalk with the hose to get rid of any residual dirt and allow the area to dry.
Step

4
Draw the outlines of the objects until there are complete line drawings.
Step

5
Fill in the background of the drawing first. Start with sky areas, the grass and other atmospheric elements.
Step

6
Blend the background elements with a paper towel to create a more dreamlike quality for elements such as the clouds in the evening sky.
Step

7
Color in the elements that require more details like the leaves on a tree, a pattern on a child's dress and any lettering. Use smaller pieces of colored chalk to capture really small details of the drawing.
Step

8
Add shading to the sidewalk art by using variations of different colors. For example, make the waves of an ocean from light blue and green chalk. Then fill in the darker parts of the waves with hunter green or midnight blue chalks. This helps to create a more three-dimensional quality to the art.
Tips & Warnings
If you want to get your kids involved in the whole process of learning how art is made, help them to make sidewalk chalk from scratch as part of an art lesson.

Use stencils to draw letters instead of drawing them freehand. This works well if you're using chalk to advertise a school event such as a carnival, because it makes the letters easier to read. Draw the outline of these letters when you make the drawing's outline. If you add the letters on top of your finished drawing, it's likely that the colors from the chalk from the drawing will blur the letters, making them look less crisp.
References
Photo Credits
Thinkstock/Comstock/Getty Images