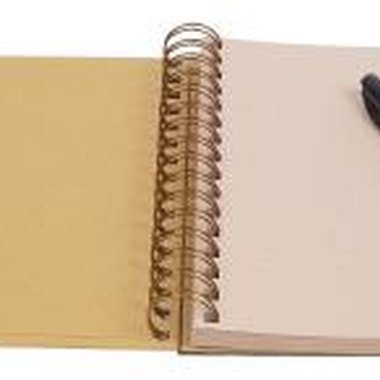 If you're a fan of Anime or Manga, it may be a matter of time before you're dreaming up characters of your own, with interesting story lines, supernatural powers and most importantly, impressive graphics. While it often takes a team of illustrators to create an entire anime series, you can get the ball rolling by creating a compelling anime character and storyline and share your creation online to garner interest in your project.
Step

1
Create a character profile. Write down characteristics of your anime hero or villian. Start with the basics such as gender, nationality (what planet is he or she from), topical characteristics such as hair, skin, eye color and body type. Write as many details as possible to formulate a picture of the character in your mind.
Step

2
Sketch the character on a notepad or graphical drawing program that you know how to use. Find an illustrator you like to make the sketch for you if you're not good at drawing. This can be a friend or artist with work online. Share your character profile with the illustrator and discuss any details not written down.
Step

3
Draft a story synopsis. The synopsis includes the beginning, middle and end of the characters story along with the key turning points. The story also includes supporting characters such as enemies and allies. Keep the purpose of your character's journey in mind as this is the driving force behind the story.
Step

4
Build more detail to each part of your story. Add interactions between your main character and supporting characters in the story. For example, if the story begins with a journey, describe the setting and the reason the journey began.
Step

5
Work with your illustrator to create supporting imagery. Draw important or compelling settings the story takes place in as well as supporting characters. This helps potential viewers get a better sense of the anime story.
Step

6
Create a title for your anime story and register a domain name related to the title. This will serves as the online resource for your anime. Purchase the smallest hosting package available. As your anime site and concept grows, upgrade storage and bandwidth as necessary.
Step

7
Upload your anime graphics to a graphic editing tool (if they were created on paper) and optimize the images for use on the Web. This may include sharpening the edges, brightening colors and saving the file as a PNG file.
Step

8
Design your website as a blog and upload your storyline and anime character to showcase the concept. The blog platform provides all the benefits of a standard website but also allows others to post comments and leave feedback. Create groups for your anime character on social media networks and invite anime fans to experience your idea.
Photo Credits
Hemera Technologies/PhotoObjects.net/Getty Images