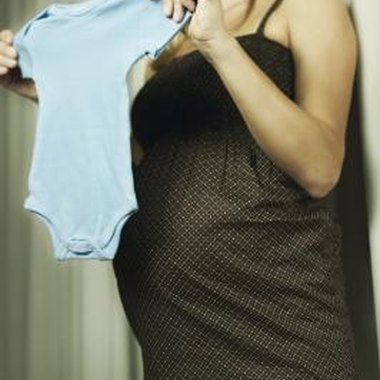 A baby shower invitation in the shape of a onesie is a different and adorable way to ask guests to attend the special event. While the shape differs from the common rectangular card, the result is worth the effort. The materials you need are not different from those used for more common invitations and the size can even be a common one. It is ideal for baby showers at which the guests will be asked to decorate a onesie for the new baby to wear.
Items you will need
8.5 inch x 11 inch cardstock

Ruler

Scissors

1-inch circle paper punch

Tiny buttons

Hot-glue gun

Ribbon

Stickers

Markers
Step

1
Measure and cut the cardstock sheets in half lengthwise.
Step

2
Fold each sheet in half once more; this will be the final size of the finished invitation. Place the fold at the top of the work surface and use the circle punch to create a half circle at the top in the center of the fold for the neck of the onesie. Move the circle punch to the bottom and create two half circles on each end to form the leg holes.
Step

3
Draw on the sleeves and the sides of the onesie using straight lines, as they will be easier to cut for multiple invitations. Cut along those drawn lines so the final shape appears with two sleeves, one neck hole and two leg holes, with the fold intact at the top. Repeat this process with the remaining invitations.
Step

4
Hot-glue three tiny buttons between the leg holes on each onesie.
Step

5
Cut lengths of ribbon for each sleeve and glue them in place as edging on the onesie. Place stickers on the front of the invitations that say "Baby Shower," "Special Delivery" or have other baby-shower-themed messages. Use the markers to hand write the shower information, such as date, time, location and registry details, inside the card.
Tips & Warnings
Make the final count for the invitee list for the baby shower so the number of invitations you need is clear, then purchase enough cardstock for that number, keeping in mind that each piece of cardstock will make two invitations.

If the guest list is long, print the inside of the cards in advance and cut out the shapes afterward to avoid the painstaking process of handwriting them all after cutting out the shape. This shape will not fit smoothly through most printers.

Purchase buttons in colors preferred by the mom-to-be, or pink for a girl or blue for a boy if you know the sex of the baby. If you don't, you can use neutral colors.

Refrain from putting the ribbon around the leg holes, as the circle will bunch the ribbon up too much and it will look unfinished.
Photo Credits
Jupiterimages/Brand X Pictures/Getty Images