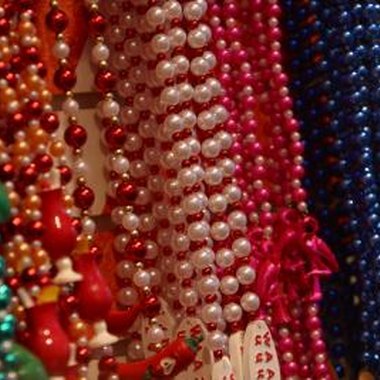 Mardi Gras is a time to let your hair down, have fun and go wild. One day a year is set aside specifically for the bright colors, ample amounts of plastic beads and bawdiness of this pre-Lenten celebration. Don your mask, let it inspire your homemade invitations, and get ready for an evening of laughter and enjoyment.
Items you will need
Card stock paper in purple, green and yellow

Large envelopes

Scissors

Glue

Dark colored pens

Seed beads (optional)

Feathers (optional)
Step

1
Draw a large mask on card stock in one of the three traditional Mardi Gras colors: purple, green or gold. Use the envelopes as a guide for the size. The mask should fit inside the envelope without folding. Rotate among the three colors of card stock. Make as many masks as needed for the number of guests you plan to invite. Cut out the masks.
Step

2
Draw eyes for the masks on separate pieces of paper. The eyes should fit the eye slots on the mask, be oval in shape and slant upward. You will need two eyes per invitation. Use paper in a contrasting color from the mask. Cut out the eyes and glue them into position on the front of the mask.
Step

3
Write the details on the invitation around the edges of the mask. Include the location, date and time of the party, RSVP information, whether the guests should wear costumes, and whether they should bring anything.
Step

4
Embellish the invitation with beads and feathers. Glue the beads at the corners of the mask. Glue the feathers at the top in the center of the mask or hanging down one side of it. Do not cover any information when attaching the embellishments.
Tips & Warnings
You also can use the computer to make these invitations. Draw the masks in a paint program or sketch the masks on paper and scan them into the computer. Use a word processing or graphics program to put the details on the invitation, and then print.
Photo Credits
Hemera Technologies/AbleStock.com/Getty Images