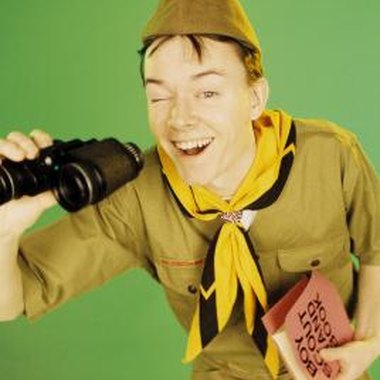 Becoming an Eagle Scout is rare rite of passage that deserves celebrating. Few people are allowed the honor, and excellent invitations can attract guests to this worthwhile event. Eagle Scout invites can be created in ways similar to invitations for other events. You can find online resources, or make them yourself. No matter what method you enlist to make the Eagle Scout ceremony invites, essential information needs to be the hallmark.
Step

1
Search for sample invitation templates. ScoutStuff.org, for instance, manufactures 10" x 7" invite cards specifically tailored for Eagle Scout ceremonies, available in packages of 50.
Step

2
Produce your own Eagle Scout invites at home. Purchase a packet of attractive blank invitations; you can either print on these, or write on them by hand. First, clarify if the invitation allows just the invitee alone to the event, or if they may extend it to guests. If others are allowed, stipulate how many. Specify that this event celebrates the bestowal of an Eagle Scout award. Note whether formal attire will be expected for this particular ceremony. After this, include the following specific information: the date, start time, duration, and address. Attach a separate page to each invite with directions to the event. Also ask for an RSVP, including your phone number or e-mail address to confirm attendance.
Step

3
Highlight "Boys Scout of America" and "Eagle Scout" in the invitation. These phrases help to officially signify the event as a legitimate, infrequent, and rare experience that is not to be missed. It's also a good idea to place these descriptors before the future Eagle Scout's name on the invite.
Step

4
Include a picture of the soon-to-be Eagle Scout. If possible, choose a shot that shows him adorned with the many badges necessary to reap this rare reward.
Step

5
Incorporate a brief biography into the invitations as well. It should feature noteworthy scout honors, significant achievements in school, and the scout's troop number, along with the name of his Scoutmaster.
Step

6
Send out the invitations well in advance of the ceremony. At least three months provides potentially busy participants, such as neighborhood politicians and business owners, with plenty of time to make room in their schedule for this prestigious event.
Photo Credits
Comstock/Comstock/Getty Images