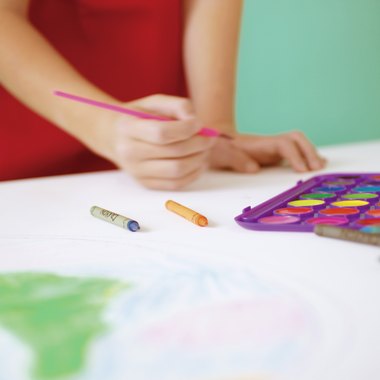 Visual art is a powerful way to communicate your unique view of the world. It can also provide an outlet for you to release a range of emotions and pent-up energy, resulting in dramatic, striking works of art. Creating dramatic artwork requires effort and personal reflection, but if you have an idea and a dose of passion, you can transfer your inspiration to canvas to make a personal and powerful statement.
Items you will need
Art materials -- e.g., paint, canvas, brushes, markers, crayons, pencil

Found or recycled objects

Easel or work surface
Step

1
Reinterpret a famous painting by putting your own twist on a well-known or iconic representation. One of 20th century figurative painter Francis Bacon's most famous works is the 1953 painting "Study After Velázquez's Portrait of Pope Innocent X," which takes a classical portrait of the pope and turns it into a dramatic, nightmarish vision, accomplished through the addition of urgent, vertical slashes of paint. Make a large-scale photocopy of the original painting on sturdy paper or cardstock that you can paint over, or reproduce the painting on a blank canvas, taking dramatic liberties as the mood strikes.
Step

2
Include contrasts in your work. For example, make a painting or picture with a stark contrast between light and dark, black and white or bright and muted colors. The use of contrast in visual art creates drama by highlighting differences and pulling the viewer's gaze in several directions at once.
Step

3
Experiment with different brushstroke styles to heighten the drama of your artwork. Bold, broad brushstrokes, applied quickly and without worrying about perfection, can make an otherwise tame work of art dramatic because they can appear to communicate fury or passion. Examine the work of Jackson Pollock and Janet Sobel for inspiration and get creative with how you view the paintbrush and the paint application process.
Step

4
Use mixed media to accomplish a dramatic effect in your artwork. Use craft glue or rubber cement to adhere found objects, textiles and scrap fabric or industrial materials -- such as nails, nuts and bolts -- on an otherwise flat canvas to add texture and drama. Create a sculpture using found objects and materials if you're accustomed to working in two dimensions; the new challenge will inspire you to build a striking work of art from the ground up. Use a cheap frame, such as a wire chair, if you need help adding form and structure to your three-dimensional artwork.
Step

5
Go big. While small-scale works of art can indeed be very dramatic, increasing the size and scale of your art is a quick way to add drama. Use the biggest canvas that will fit on your easel or in your workspace. Create large forms and shapes set against a solid-color background in a bright hue to make viewers stop and stare.
Photo Credits
Jupiterimages/Comstock/Getty Images