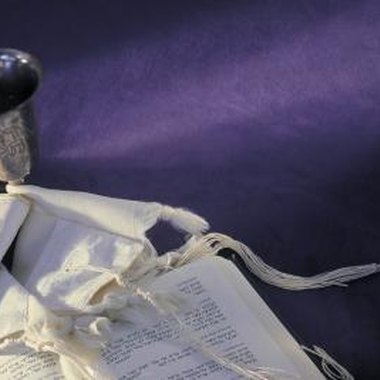 A Bat Mitzvah is a special time time in a young lady's life. It only comes once, and it is an event that will be remembered for a lifetime. Turn a stack of photos into displayable memorabilia from this turning point event by creating a Bat Mitzvah montage. The montage can be as artsy or as simple as you like, featuring odd camera angles or straightforward smiling faces. It's the perfect activity for the Bat Mitzvah girl herself to work on after the ceremony. If hung in the living room or hall, it will become a point of nostalgia and laughs for years to come.
Items you will need
Photos

Poster board

High-quality paper

Scissors

Paste

Collage finishing spray or clear coat
Step

1
Hire a professional photographer to take photos before, during and after the service and party. Alternately, have a close friend or family member do so instead.
Step

2
Lay the photos out in front of you, arranged according to theme. For example, place all of the photos from the bimah in one area, all the photos from the kiddish in another pile, and all the photos of dancing at the after party in a third.
Step

3
Cut out parts of the photos that are uninteresting or irrelevant to the subject or context of the photo. For example, a random foot in a photo of a group of friends standing together should go. Make these cuts with smooth, curving lines, or cut along existing lines such as the side of a person's body or the edge of a door frame.
Step

4
Paste the photos onto a large piece of poster board, arranged according to theme and how the photos meld best. To meld them, place like colors together, and try to figure out ways for lines to flow smoothly from one photo to the next. For example, the line of a burgundy table top at a dinner party can be lined up with a burgundy or dark-colored step leading up to the bimah. Similar shapes can also help with transitions between settings. A photo of the congregation dancing after the service can meld into a full dance floor at the reception.
Step

5
Continue this process until no poster board is showing behind the photos. If you don't have enough photos to make this possible, use marker in a subtle, matching color to fill in any white bits of poster board, or use a dark-colored poster board to begin with.
Step

6
Use letters cut out of high-quality paper to spell out something descriptive like "Anna's Bat Mitzvah, 2011" across the top of the poster board.
Step

7
Use a collage finishing spray or clear coat to protect the montage.
Step

8
Get the montage framed in a simple frame of complementary color.
Tips & Warnings
If using a digital camera, be sure that all the photos are taken at 300 pixels per inch or higher to ensure good print quality.

Begin taking photos of the Bat Mitzvah girl well before the service to capture the studying period on film as well.
Photo Credits
Comstock/Comstock/Getty Images