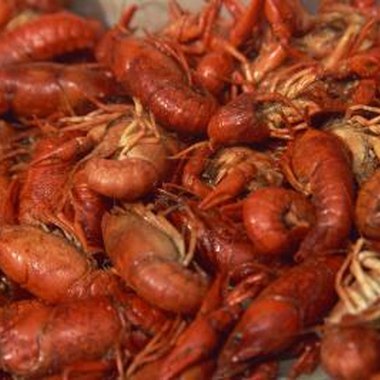 "Es la bas, crawfish etoufee" translates into "Over there, crawfish etoufee" -- and it's the first line in the famous zydeco song "They All Ask'd for You." And they are indeed asking for you at the Crawfish Festival, held the first weekend in May every year in Breaux Bridge, La., named Crawfish Capital of the World by the Louisiana legislature in 1959. All are welcome to enjoy Cajun and zydeco music and crafts but, most importantly, to enjoy the crawfish.
Crawfish
The festival is built around the freshwater crustacean that cannot tolerate polluted water. Festivities include a crawfish-eating contest to see who can consume the most boiled crawfish within 45 minutes, but you have to obtain the meat properly. Take your cue from Zachary Richard's "Crawfish" lyrics: "squeeze the tail and suck the head." For slower-paced tasting, try the crawfish etoufee cook-off, in which teams compete to become champion. After being judged, samples are available to the crowd. Or stroll through myriad food pavilions to taste any other type of crawfish: fried, boiled, boudin, in jambalaya or as a "crawdog." More interested in seeing the mudbugs move? Watch the crawfish races, where owners propel their entries around an 8-foot track.
Cajun and Zydeco Music
You can hear plenty of Cajun and zydeco music at the festival. Dancing is not mandatory but is encouraged, especially during the famous two-step and Cajun waltz dance contests. Don't worry; you can prepare for the contests by taking dance lessons offered at the festival. You will want to dance, because the bands perform on three different stages throughout the weekend.
Carnival and Parade
The carnival midway, located in a fenced area, offers rides and games, but kids will also enjoy watching the festival parade that honors the Crawfish King and Queen. Adults and kids will see local marching bands and beautifully decorated floats.
Heritage
The festival honors Cajun heritage along with the tasty crawfish. Take an accordion-making class, honoring the unique sound of zydeco music, or learn bouree, a traditional Cajun card game, similar to spades. For less interactive visitors, many vendors sell handcrafted items and novelties unique to the Cajun locale.
Photo Credits
Jupiterimages/liquidlibrary/Getty Images