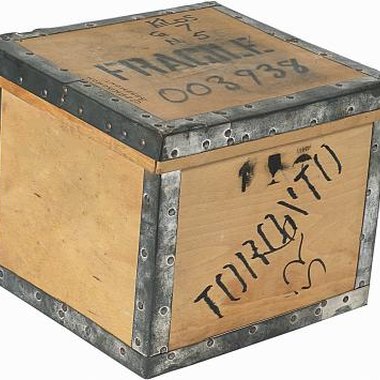 Toronto is the cultural, entertainment and financial capital of Canada according to the official website for the City of Toronto. The population of this multicultural city is over 2.7 million, and among these people are myriad artists and craftspeople who gather, display and sell their pieces at arts and crafts shows. The crafts shows are held year-round both indoors and outdoors.
One of a Kind Show -- OOAK
The One of a Kind Show (oneofakindshow.com) is an indoor biannual show that presents handmade creations of artists and craftspeople. The show is held shortly before each Easter and Christmas and attracts a multitude of visitors to the Direct Energy Centre, at the Exhibition Place on Princess Boulevard. The OOAK is also held in Vancouver as well as New York and Chicago.
Toronto Outdoor Art Exhibition -- TOAE
Celebrating its 50th anniversary in 2011, the Toronto Outdoor Art Exhibition (torontooutdoorart.org) is a three-day summer event that involves over 400 artists and craftspeople. The exhibitors display their work and sell it to the interested visitors. The event is held annually, and the participants are selected by a jury from over a thousand yearly applicants. The location of the exhibition is in the square of the City Hall.
WychCraft Outdoor Artisans Market
The WychCraft market (wychcraftmarket.com) is a weekly event during summer, held outdoors on the lawn of St. Michael and All Angels Church. Each Saturday during the summer months, artisans gather to showcase their hand-crafted items, while live-music performers entertain the visitors. A farmer's market is held nearby and this drives traffic to the market as well.
Artisans at the Distillery
Artisans at the Distillery (artisansatthedistillery.com) is an event held each year during three long weekends in May, July and September. The show is open to all artisans that produce quality hand-crafted items. The shows are held outdoors in the Distillery district, which is located in the east side of Toronto, close to the beaches. The area used to be the location for beer distilleries in the past and today is crammed with cafes, restaurants and art galleries.
Queen West Art Crawl
The Queen West Art Crawl (parkdaleliberty.com) takes place in September in Trinity Bellwoods Park, located close to Queen Street West, an area that is well known for the many arts and crafts galleries and gift shops. The show presents local artists and craftspeople and has been a yearly event since 2003.
City of Craft
The City of Craft (cityofcraft.com) is "Toronto's celebration of all things handmade" and is open to all local artisans that want to sell their creations before Christmas. This yearly event is held in December, and 45 to 50 artisans typically take part each year.
Photo Credits
Zedcor Wholly Owned/PhotoObjects.net/Getty Images