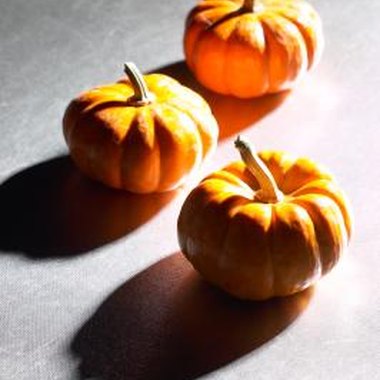 Mini gourds aren't just good for making small jack-o-lanterns or decorating your porch during the fall. They can also be used year round to create unique crafts for your home and your friends. These crafts may take more time than going out to a store to purchase a decoration, but the work with the mini gourds will be worth it. Working with mini gourds can be a little messy, so make sure to cover your work surface entirely.
Holiday Centerpieces
One of the first images to come to mind when thinking of what you could do with a mini gourd might be a cornucopia. You can make a small cornucopia for your Thanksgiving or fall table using mini gourds and a horn shaped basket. Mini gourds are also good for filling a glass bowl during the autumn. You can easily decorate a few mini pumpkins as a Halloween centerpiece, or even get tiny pumpkins and place them in a cupcake tree for a special occasion.
Candle and Potpourri Holders
If you're looking for a new candle holder, look no further than a dried mini gourd. If you cut the top off of a rounded gourd, take out the meat and dry it, you can place a tea light inside. You might want to glaze the inside of the gourd to reduce the risk of a fire. Not only will your candle holder have a unique shape, but if you're a good painter, you can decorate it yourself. If you prefer potpourri, your dried mini gourds will work just as well as a glass bowl. You can also purchase dried gourds; just make sure they have a flat enough bottom to safely hold a candle or potpourri.
Molds and Impressions
After you've hallowed out a mini gourd, try filling it with cement, plaster or resin to make a paperweight or knickknack. Using a gourd as a mold gives you access to a variety of colors not found in nature, so you can match the mini gourd to your décor. If you are looking for new mugs, you can use two gourds stacked one inside the other with a layer of food safe resin in between. You can also use the mini gourds to make impressions. The grooved sides of the gourd make interesting patterns on paintings or plaster pieces.
Decorative Pieces
Gourds can be decorated to function as a number of beautiful crafts in your home. You can make a small flower vase, painted with images of your favorite flower. You can paint mini gourds with your children to make Christmas ornaments. You can even fill mini gourds with different beads and seeds to make a collection of musical shakers.
References
"Quick and Easy Gourd Crafts;" Mickey Baskett; 2003.
Photo Credits
Hemera Technologies/Photos.com/Getty Images