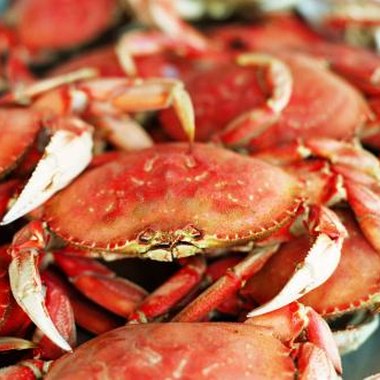 Festivals that are dedicated only to crabs are rare. Usually, festivals that celebrate the shellfish delicacy also promote another food product along with it, whether it is wine or other seafood, like lobster. Crab feast festivals occur around the world, mostly on or near coastal areas bountiful with crabs.
Food
Different crab feast festivals feature different types of food that are served with crab. For example, the Cerelia Crab Feast in Cawston, British Columbia, Canada, serves "King Crab legs alongside a gourmet dinner" that includes appetizers, dinner, dessert and two glasses of wine, according to the Okanagan Wine Festivals website. Some festivals include lobster with the crab, while others have food vendors for those who wish for something besides crab, like Taco Bell, Papa Johns and Beef O'Bradys.
Time of Year
Crab feast festivals typically occur during warm months, but specific times vary depending by location and crab fishing seasons. Festivals farther north, like the Cerelia Crab Feast in Cawston and the Lobster and Crab Feast in North Devon, England, take place sometime in September each year. The Blue Crab Festival in Palatka, Florida, on the other hand, occurs in late May, and the Astoria Warrenton Crab, Seafood and Wine Festival in Oregon happens in late April or early May.
Locations
Crab feast festivals are generally near docks or parks that can accommodate the grills and crowds that the festivals attract. An example is the Maryland Seafood and Aquaculture's Annual St. Mary's Crab Festival, which takes place on St. Mary's Governmental Center Lawn in Leonardtown. The Lobster and Crab Feast in North Devon takes place in Clovelly Harbour. If the crab feast festival is associated with wine, like the Cerelia Crab Feast, it may take place at the host's winery.
Activities
Many crab feast festivals incorporate activities as well as a general appreciation of consuming large amounts of crab. The Cerelia Crab Feast has live music, dancing and prizes, while the crab festival in North Devon features wine and beer tasting and arts and crafts stalls for adults, as well as "face painting, storytelling, walkabout magic, balloon modelling" and other activities for children, according to the Lobster and Crab Feast website.
Photo Credits
Jupiterimages/Photos.com/Getty Images