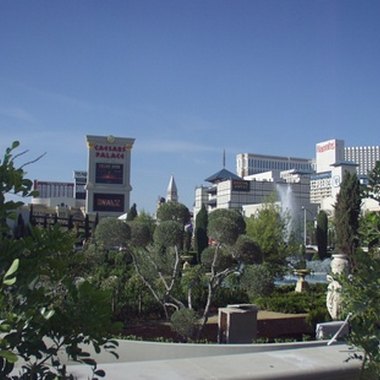 Tourism and entertainment became the Las Vegas region's top industry after Wold War II, with the number of visitors skyrocketing by 450 percent between 1970 and 2004. The city celebrated its 100th birthday in 2005. Not everyone wants to stay in one of the showy, glitzy rooms for which Las Vegas is famous. Luckily, Las Vegas offers plenty of cozy lodging options emphasizing comfort and the convenience of easy access to the Strip's charms.
Suite Comfort
One way to get cozy in Las Vegas is to book a hotel suite rather than a cramped hotel room. At the MGM Grand Hotel & Casino, located on the city's iconic Strip, visitors can relax in spacious, warm-toned suites fitted out with plenty of creature comforts. Extra-large showers, pillow-topped beds, Italian marble bathtubs, roomy dining areas, robes and slippers make for a relaxing experience. Some suites come with outdoor patios for watching the desert sunrise with a cup of coffee, two-story layouts for additional elbow room and free wireless Internet access for staying connected.
No-Fuss Rooms
Off the Strip, the frenzied energy of Las Vegas dims just a notch, allowing visitors to catch their breath. At the Tuscany Resort & Casino, 625-square-foot hotel rooms are larger-than-average, with neutral-toned linens, elegantly spare decor and coffee tables. Cuddle in the outdoor hot tub, swim a few leisurely laps in the pool or browse the on-site gift shop for gifts to bring home to the family. Convenient on-site restaurants offer slow-cooked osso bucco, barbecue baked chicken and round-the-clock breakfast menus.
Vegas Mountaintop
Mount Charleston hovers above the city of Las Vegas at 7,716-feet elevation, within Kyle Canyon's Humboldt Toiyabe National Forest. Relax among Ponderosa pine, juniper, mahogany and aspen trees outside, or sip cocktails before the fireplace at Mount Charleston Lodge. Guests can book single or double cabins featuring propane fireplaces, hot tubs, fridges and electric stovetops for cooking simple meals. Balconies open to fresh air and mountain views, and visitors are welcome to bring pets. If the rustic scene starts to feel a little too cozy, dart down the mountain to the razzle-dazzle of Las Vegas for dinner or a show.
Vacation Homes
Another way to arrange for cozy Las Vegas lodging is to avoid hotels, motels and lodges entirely in favor of renting a private vacation homes. These can range from simple one- or two-bedroom condos to larger homes big enough to comfortably house the whole family. Roomy dens, equipped kitchens, modern entertainment centers, air conditioning and backyard swimming pools are common Las Vegas vacation home commodities. To avoid disappointment, book through a reputable agency and ask for previous customer testimonials.
Photo Credits
las vegas panorama image by Rainer Schmittchen from Fotolia.com