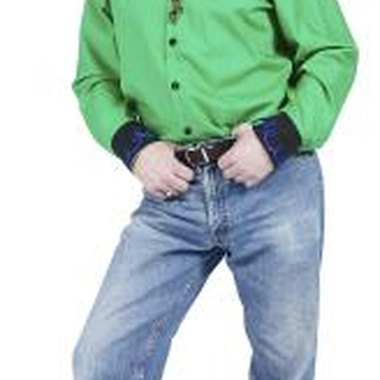 Whether you are in cowboy country or a big-city suburb, have an authentic cowboy experience by rustling up some ranch friendly grub. For a western-themed party, the food is an important extension of your theme, so serve meals and sides that cowboys would love a second helping of. Adults and kids of all ages will enjoy party food with a Wild West flair.
Main Dishes
Chili is a staple of western life, so have some old-fashioned bowls of the spicy stuff on hand for cowpokes. Other options for main entrees are grilled hotdogs and hamburgers, chicken-fried steaks with gravy and fried chicken. If you don't mind getting messy, serve some barbecued ribs or chicken slathered with barbecue sauce. Grab some buns and put together Sloppy Joes, or try some Tex-Mex options such as grilled fajitas or enchiladas.
Sides
Side items, or "fixings," are an essential part of cowboy cuisine. Things like baked beans or pork and beans, fresh corn on the cob, chips and salsa, cornbread, green beans and cole slaw are good sides to serve. Mashed or baked potatoes are another popular choice. Gravy can be brown or white and go on just about everything, and if you are serving Tex-Mex food, guacamole and salsa is a must.
Beverages
In the South, the drink of choice is sweet iced tea. Other options are root beer or any kind of sweet soda, margaritas and beer for adults, and ice cream floats for kids. Ginger ale is another option for younger cowboys, and a cowboy of any age never turns down a cool glass of fresh lemonade. Keep drinks cool in a barrel or cooler full of ice if your party is outside.
Desserts
Some options for dessert are brownies, pecan pie or apple pie and fresh baked chocolate chip cookies. A Southern tradition is to make homemade ice cream in a hand crank, but you can use a newer version of an ice cream machine to make a decadent vanilla treat for party guests. Serve the homemade ice cream with cake.
Photo Credits
Hemera Technologies/PhotoObjects.net/Getty Images