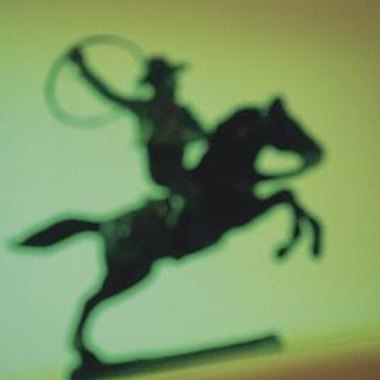 The history of the U.S. state of Georgia includes some infamous figures, with the gunfighter John Henry "Doc" Holliday born in the city of Griffin during the Wild West era. Communities in Georgia still celebrate the Western heritage of America, with cowboy festivals staged in locations throughout the state each year.
Booth Museum Cowboy Gathering
The Booth Western Art Museum (boothmuseum.org) in Cartersville has exhibitions of Western art, artifacts and memorabilia for visitors to enjoy. The museum also hosts events throughout the year, with the Southeastern Cowboy Gathering taking place in March each year. This four-day celebration can stage a number of events including exhibitions of a featured Western artist, screenings of famous cowboy movies and a cowboy church service on the final day. Competitions can include cowboy poetry contests, Western-style meal cookoffs and country music playing contests.
Peach State Country Western Dance Festival
Events that focuses on Western-style dancing include the Peach State Country Western Dance Festival (peachstatedance.com). This has a history dating back to the late 1980s, with the three-day festival staged during March each year in Atlanta. Hosted by the Country Western Social Club (cwsc.org), the event stages competitions for couples and teams in various dance styles, including line, swing and two-step dancing. Plenty of open dancing takes place for all visitors to enjoy, with workshops also staged to teach the skills of the various dance styles. Vendor booths also provide visitors the chance to purchase some Western-wear garments.
South Fulton Comunity Rodeo and Festival
The South Fulton Community Rodeo and Festival (southernkranch.com) takes place at the Southern K Ranch during Mother's Day weekend in May. The ranch covers around 22 acres of land in College Park, Fulton County, with its mission to help children in the area through rodeo and cowboy activities. The festival focuses on cowboy skills, with events including bull riding and barrel racing. Cowboys and cowgirls come from many states to take part, and the festival also features pony rides, food vendors and other activities for visitors to enjoy.
Georgia SASS Clubs
The Georgia Single Action Shooting Society (sassgeorgia.com) has a number of clubs that stage cowboy-style shooting events and competitions throughout the year. Doc Holliday's Immortals in Griffin, for example, stages a two-day match over a weekend in June, with couples and teams enjoying some shooting action. Competitors can also enjoy a Western-style lunch and dinner as part of the fun.
Booth Museum Cowboy Festival and Symposium
During October each year, the Booth Western Art Museum stages one of the largest cowboy festivals in Georgia. This takes place over four days, with many events taking place. This can include demonstrations of cowboy and Native American skills, such as pottery making, chuck-wagon cooking, traditional dances and quick-draw gun displays. One day of the festival features scholars lecturing on their research into Western art. Entertainment includes country music concerts and reenactments of famous events from Wild West history. A kid's corner can have calf-roping and pony ride activities for children, and a marketplace has vendors displaying a wide variety of Western and cowboy-themed items for sale.
Photo Credits
Ablestock.com/AbleStock.com/Getty Images