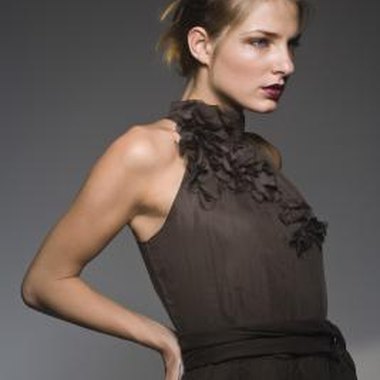 A couture party is a great way to celebrate an occasion such as a birthday, upcoming wedding or promotion for an individual in the fashion industry or someone who just loves all the different styles and clothing designers. Emphasis on either vintage or current designer clothing will be a sure hit for fashion-conscious guests. There are several methods to make these events unique and memorable. All it takes is a little imagination and creativity and the party will be original and entertaining.
Fashion Trade-Off
Request that all guests bring their most fashionable designs that they may have outgrown or no longer wear and host a clothing exchange where they can trade items with other party participants. Or have a clothing auction with these items and donate all proceeds to the guest of honor's favorite charity.
Celebrate Designers
Ask party participants to wear the clothing and accessories of their favorite designers to the event and then have a competition as to who can correctly identify the designers featured when everyone has arrived. The person who matches the most correct designers to the items worn wins a special prize.
Casual Style Show
Invite all party participants to bring their most fashionable styles and host a mini style show for everyone's enjoyment. The style show can be a casual walk-around event or a temporary stage can be assembled for participants to strut and turn for all to view their favorite couture designs. Place a limit on the number of ensembles each guest can bring and ask your most vocal participant to serve as the master of ceremonies to announce each model and the details of her individual outfits.
Hair and Makeup
Hire a makeup artist and hair stylist who specialize in couture designs and invite all your friends to bring their fashionable clothing selections with them. When their makeovers are complete, all party-goers can dress up in their designer outfits, complete with accessories, and go out on the town to celebrate and show off their new looks.
Night at the Oscars
Combine a couture party with the Oscars awards. Have all guests come in their very best couture clothing to view the ceremonies. Organize competitions as to who will win the various film, directing and screenwriting categories. At the end of the night, vote for the best-dressed attendees and award them miniature Oscar statues as a reminder of the eventful night of movies and fashion.
Photo Credits
Jupiterimages/Polka Dot/Getty Images