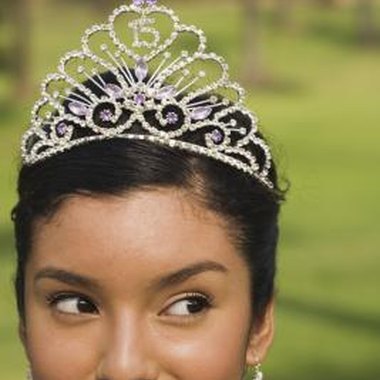 A quinceanera is a traditional Latino custom that honors a girl's 15th birthday. The word "quinceanera" is derived from the Spanish words "quince," meaning "15" and "anos," meaning "years." This is the age at which the Latino culture recognizes girls as women, and a large ceremony and party is held in the girl's honor. She chooses a group of close friends and family to serve as her Court of Honor, who exclusively accompany her through the ceremony and celebration.
The Size of the Court of Honor
A traditional quinceanera has a court of 14: seven females accompanied by seven males. Nontraditional courts can be comprised solely of 14 of the birthday girl's closest female friends; they can also be comprised of less than 14 people if the birthday girl so wishes. According to the website Miss15girl.com, the members of the Court of Honor represent a year of the birthday girl's life leading up to her 15th birthday.
Damas
The damas are the female members of the birthday girl's Court of Honor. They can be her sisters, cousins, sisters-in-law and friends. They wear formal dresses in a color chosen to match the theme of the quinceanera celebration.
Chambelanes
The chambelanes are the male members of the court and are also called escortes or galanes, according to Quinceanera-Boutique.com. Like the damas, the chambelanes are cousins, brothers-in-law and friends, and dress in formal tuxedos or suits. They escort the damas throughout the celebration.
Court of Honor Introduction
The Court of Honor is announced preceding the official entry of the birthday girl at the quinceanera reception and sits at the head table with her, much like a bridal party would. They also accompany her in the "vals" or official birthday waltz, which is a choreographed routine performed by all members of the Court of Honor along with the birthday girl and her escort.
Presentation of the Scepter
Many of the traditions of the quinceanera are symbolic, and the Court of Honor, along with her family and godparents, often present the birthday girl with a scepter to symbolize her role as queen for the day. This scepter also represents the responsibility that comes with being recognized as an adult.
Photo Credits
Jupiterimages/Brand X Pictures/Getty Images