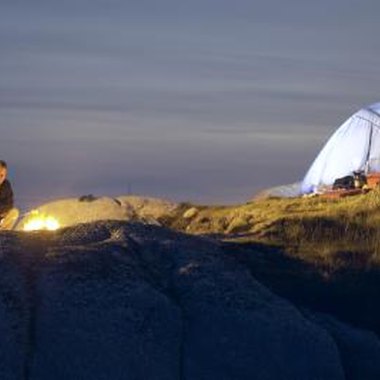 Camping under the stars at night offers any couple the opportunity to reconnect with nature, both inside and outside of the tent. Whether you're seeking a campsite in the mountains, by the beach or next to a waterfall, Georgia boasts the perfect spot sure to rekindle romance. Four tent campgrounds worthy of consideration include Amicalola Falls State Park, Enota Mountain Retreat, Sea Camp at Cumberland Island Campground and Cloudland Canyon State Park.
Amicalola Falls State Park Campground
Does life get any better than hiking in the woods with the one you love? Amicalola means tumbling waters, named by the Cherokee Indians for the 729-foot waterfall that sits at the beginning of the Appalachian Trail. Stretched out across 829 acres, Amicalola Falls State Park (gastateparks.org) offers 12 miles of hiking trails, trout fishing, and a mountain-view restaurant with views that all painters long to recreate. Whether you are a seasoned hiker or an eager beginner, there is a trail designed just for you at Amicalola Falls State Park.
Sea Camp at Cumberland Island Campground
If you have wished for a deserted-island experience in the arms of our sweetheart, Cumberland Island (gastateparks.org) makes this dream possible. Nothing brings lovers together like sharing a unique experience. Campers are likely to see wild horses grazing in the dunes on this unspoiled paradise. It is prudent to set your campground reservation far in advance, or risk missing out on this one-of-a-kind trip. Reservations for the ferry are also required because that is the only way to access the island. Packing light is advised. First, there are no garbage cans allowed to spoil the natural remote perfection of this experience, so campers must pack everything up to take back off the island. Second, packing a lot of stuff to bring to an island paradise defeats the purpose of an escape with your sweetheart. If you crave the ocean and some privacy with that special someone, then the Sea Camp campsites that are surrounded by trees will put a smile on your face.
Cloudland Canyon State Park
Couples looking to reconnect and lose themselves in the beauty of the outdoors will find breathtaking views and fabulous hiking trails at Cloudland Canyon State Park (gastateparks.org). With two gorgeous waterfalls and a gorge that cuts into the mountainside offering exquisite views, a couple can easily get lost in the serenity of a hike in the mountains. Walk-in tent sites provide a comfortable camping experience with plenty of space. Sharing a game of tennis, fishing or disc golf offers interesting diversions for lovers seeking relaxation.
Enota Mountain Retreat
Surrounded by the mountains of the Chattahoochee National Forest, Enota Mountain Retreat (enota.com) makes "going green" seem effortless. Any couple will find the waterfalls, streams, organic farm and garden, spa and wellness center, and trout ponds the oasis from the rat race. The only thing better than sleeping under the stars in your sweetheart's arms is possibly being in a tent next to the stream that lulls you into the deep, soothing dream.
Photo Credits
Hemera Technologies/AbleStock.com/Getty Images