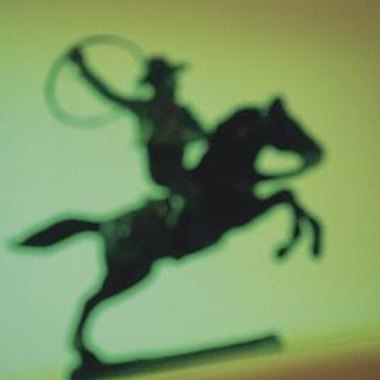 Throwing a country-themed birthday party does not mean you have to rent an event space to get the look and feel you want. "Country style" is most commonly known as a style pertaining to rural areas and way of life, which can include farm life, cowboys and "the Old West," food and music. You can transform your home into a country saloon by using the right furniture and decorations as well as country food and drink. Utilize your backyard or large den for country-themed activities.
Food
Plastic molds in the shape of horses, cowboy hats, horseshoes and sheriff stars can be used to make chocolate candies for guests to munch on throughout the party or as party favors. Other food ideas include serving hotdogs, hamburgers, chicken drumsticks, coleslaw, biscuits, salsa and chips and chili. Serve multiple chili options if desired, ranging from mild to red hot. Drink ideas include rootbeer in bottles and ginger ale, which can be served in bottles or in canteens.
Decorations
Any plush horses, cows, snakes and even plush plants, such as cactuses, can be placed around the areas of your home you are using for the party. Hang cowboy hats over lamps, on coat racks and anywhere else you see fit. Horseshoes can be hung up over the doors while wooden "saloon doors" (the type that swing) can be purchased for party use. Serve chips and pretzels in containers lined with bandanas while plastic or metal sheriff stars can be strewn throughout buffet tables. Any wooden furniture you own should also be utilized.
Games and Activities
Game ideas for country-theme birthdays at home include setting up an area in your backyard for horseshoe toss. "Pin the Tail on the Donkey" is another game idea, while pony rides can also be set up should you live on a property that is large enough. Sketch outlines for "wanted" posters and make copies for kids to color and place their own picture in. Square dancing and line dancing is another party activity; if you have the space, simply rent a dance floor to place in your backyard or cleared area of your home. Play beer games with a country twist, such as beer pong using saloon-sized beer mugs.
Music
No party is complete without its own soundtrack, so look for country western tunes and make a playlist for your iPod or mix CD. Create one playlist based on your favorite country artists, such as Dolly Parton, Shania Twain, Kenny Chesney, the Dixie Chicks and Brooks and Dunn. Another playlist could be made up of soundtracks from western/country-themed television shows such as "Gunsmoke," "Rawhide" and "The Lone Ranger."
Photo Credits
Ablestock.com/AbleStock.com/Getty Images