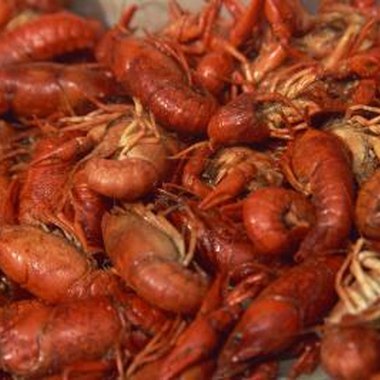 Nestled adjacent to Louisiana, the unofficial crawfish capital of the world, you might not be surprised to learn that the state of Mississippi has a gustatory preference for the little critters, as well. The city of Biloxi, on the Mississippi Gulf of Mexico coast, expresses its appreciation by hosting the Country Cajun Crawfish Festival over two spring weekends. If you like seafood, live music, a carnival-type atmosphere and are close enough to get there, you might consider checking out the gathering the next time it comes around.
Crawfish
In design, a crawfish resembles a miniature lobster, reaching perhaps four or five inches in length when mature, measuring from tail to claw tip. In texture and taste, crawfish fall somewhere between shrimp and lobster, but have been a staple in southern coastal diets for a long time, especially in the states of Louisiana, Florida, Texas and Mississippi, where the crustacean's favored swampy habitat is most prevalent. Cajun tradition is boil them in a big pot with corn and potatoes, then dump them in a big pile on a table and chow down.
Location
The Country Cajun Crawfish Festival is in its second decade of existence and, most recently, has called the Mississippi Coast Coliseum (mscoastcoliseum.com) home. Though much of the activities take place outdoors, the convention center offers an indoor retreat from the boiling heat of the Gulf Coast, which, even in late spring, can be quite debilitating. About 20,000 pounds of crawfish make the ultimate sacrifice for the eating pleasure of festival attendees, according to the coliseum's website.
Entertainment
Besides providing your fill of spicy Cajun crawfish dishes, the festival also has the type of carnival rides you've come to expect at first class shindigs like this. Plus, check out the main stage for a rotating schedule of headliner music. Country singer Gary Allan entertained the crowd during the 2011 event, as well as a selection of lesser-known local talent. The Crawfish Cookoff is a popular event to which you can buy a tasting ticket for $10 and cast your vote for your favorite chef.
Eating Style
True Cajuns have developed a two-step technique for devouring boiled crawfish, which you might want to practice before you show up, so you don't look like a rookie. They say, "Eat the tail, suck the head." This phrase refers to how you consume the edible portion of the "mud bug." Twist the crawfish in the middle to separate the head from the tail. Suck the fat from the head portion, which is quite tasty, then peel the tail until you can slip the meat out. That's the way the pros do it.
Resources
Photo Credits
Jupiterimages/liquidlibrary/Getty Images