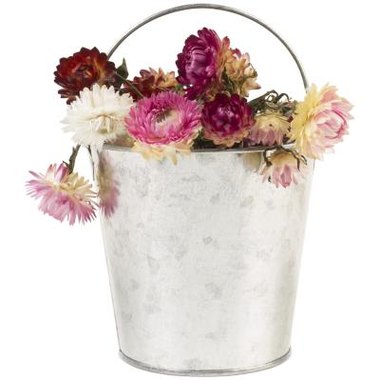 Whether you're hosting a shower for a mother-to-be who is a city girl longing to free herself from the hustle and bustle, or a born-and-bred farm girl who enjoys embracing her roots, a country-themed baby shower provides a cozy, down-home atmosphere for the celebration of an impending birth. By coordinating all aspects of the shower, you can weave the country theme throughout the event.
Decor
When you decorate for a country baby shower, choose a farm animal to center your theme around. Chickens, ducks, lambs and cows are all options that give the shower a rural feel, and fit particularly well when any of the animals have been chosen as the nursery theme. Implement simple household items into your decor as well, such as watering cans or pails filled with wildflowers, and cover tables with gingham or delicate floral print material. Stack bales of hay around the party location and create centerpieces using natural items like flowers, leaves, acorns, pine cones and buckeyes.
Food
If, like most people, you serve an iced, decorated cake at your country baby shower, opt for a cake done in white, butter cream or chocolate icing applied in a basket-weave pattern. Choose accent colors such as sunflower yellow, cornflower blue or dusty rose for the additional decorations on the cake. If you choose to go all out and provide more substantial party fare, stick with simple, satisfying home-style items. Food like steaming hot casseroles, thick, rich chicken and dumplings, tangy potato salad and homemade rolls are just some of the staples of a country buffet. For dessert, in place of cake, serve a simple fruit cobbler or offer individual fried pies filled with apples or cherries and dusted with granulated sugar that each guest can pick up and crunch into when temptation proves too much.
Games
When you look for games for a country shower, implement items with an old-fashioned feel. Obtain a woven basket and tie a pretty ribbon around it. Fill it with wooden clothespins that have been painted pink and blue. Ask your guests to write down a guess as to how many clothespins are in the basket and award a prize to the winner. Create a word jumble game out of baby names with a country sound like Maisie, Bobbie Sue, Wilbur and Cletus.
Gifts
Word your invitation so guests know that baby items with a country feel will be appreciated. For the mom who is going to use cloth diapers, choose packs of organic diapers and animal-themed or nature-themed covers. Ask guests to bring their gifts in baskets in a variety of sizes, perfect for storing baby items and toys in a nursery while creating a country look. Select tiny plaid, flannel shirts and bib overalls for baby boys and floral patterned dresses for girls, reminiscent of country clothing worn in the past.
Photo Credits
PhotoObjects.net/PhotoObjects.net/Getty Images