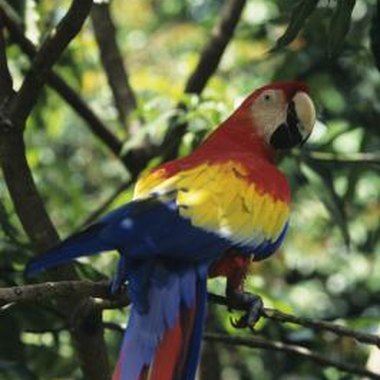 While Costa Rica has several sprawling, all-inclusive beach resorts, including some big-name chain hotels, it also presents boutique lodges and eco-resorts that offer an alternative interpretation of the all-inclusive concept. Rather than encouraging guests to stay within the resort, these properties showcase the natural beauty of their often-remote surroundings, enticing guests to venture off-site for tours and excursions, which generally can be packaged with meals and accommodations. Their packages are usually fully customizable in order to suit guests with varied budgets and interests.
Monte Azul Boutique Hotel
Monte Azul Boutique Hotel is set within a 125-acre private reserve in the rainforest-covered mountains of southern Costa Rica. The reserve -- which includes almost 4,000 feet of riverfront, numerous waterfalls and abundant wildlife including monkeys and hundreds of bird species -- is a destination for nature-lovers, presenting the chance for hiking, horseback riding and cultural activities. The hotel offers a choice of riverside casitas and a 4,000-square-foot house with a private swimming pool. The four casitas offer luxurious touches including private terraces and gardens, handcrafted hardwood furnishings and elegant tropical decor. Standard room rates include a daily breakfast, a welcome platter of organic cheeses, fresh fruit, wine and other snacks. The hotel also allowing guests to customize an all-inclusive package that -- in addition to lodging and meals -- can include spa treatments, art and cooking workshops and a menu of tours, such as ziplining, visiting an indigenous reservation and whitewater rafting.
Lapa Rios Ecolodge
Boasting a coveted place on Conde Nast Traveler's Gold List in 2010, a place on Travel and Leisure's "World's Best 500 Hotels" list and numerous awards for its eco-friendly practices, Lapa Rios Ecolodge is a choice boutique hotel in the lowland tropical rainforest of Costa Rica. It offers 16 bungalows with traditional thatched roofs, hardwood floors, bamboo furnishings and stone-clad bathrooms. They each have a furnished balcony with a hammock and ocean views. A staff naturalist leads interpretive hikes, birdwatching walks and visits to local communities; activities also include boating, whale- and dolphin-watching and kayaking excursions. Standard room rates include three meals per day at the locally managed on-site restaurant, round-trip airport transfers and three tours. Special packages provide extras like alcoholic beverages and additional tours.
Esquinas Rainforest Lodge
Esquinas Rainforest Lodge is located within the unspoiled wilderness of Piedras Blancas National Park, near the village of La Gamba. Guests stay in one of 14 rustic-style bungalows adorned with colorful textiles woven by local artisans. The lodge also offers a two-bedroom jungle villa set on a hill overlooking the main building, as well as an isolated beach cottage on nearby Playa Cacao. The basic package covers your choice of lodging and three meals a day. More comprehensive deals include the "Ocelot" package, a two-night stay with a guided hike in the national park; the three-night "Waterfall" package with the hike plus a horseback or mountain biking tour; and the "Adventure Week" package, a six-night stay with two daytime hikes, one nighttime hike, two biking or horseback riding tours, a kayaking or dolphin-watching trip and airport transfers.
Samasati
Located within 250 acres of virgin forest overlooking the Caribbean Sea, Samasati offers an enticing combination of beaches and jungle, along with tours and activities both on land and in the sea. Although the resort is designed as a yoga retreat, it is equally welcoming to visitors with other pursuits in mind, such as bird-watching, surfing, hiking and learning about the diverse cultures of Costa Rica. Accommodations at Samasati consist of nine Caribbean-style bungalows with private verandas, a two-bedroom clifftop house, a five-bedroom guest house and a three-bedroom deluxe guest house with sea views. The optional all-inclusive package covers accommodations, three meals a day, a daily shuttle to the beach and all taxes. Other packages include these provisions, plus yoga classes and spa treatments.
Photo Credits
Tom Brakefield/Stockbyte/Getty Images