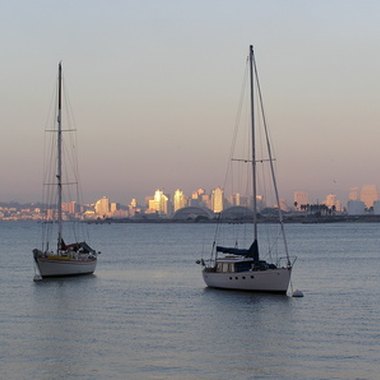 After Spanish discovery in the early 17th century, Coronado Island served as a safe harbor for whalers before pioneers began building ranches to settle the area. Investors began to transform the peninsula into a beach resort community in 1886, and vacationers have been enjoying the island's beaches, coastal access and proximity to downtown San Diego ever since. Today, Coronado Island is a picturesque beach community dotted with beach cottages, recreational cyclists and cruising sailboats. The area can be expensive, so budget travelers may choose to stay in a motel.
Family History
In the 1950s, the mother-daughter duo Dulcie Trowbridge and Bettye Vaughn decided to open a down-home, hospitality-focused motel on a plot of tropically landscaped family land. But the Villa Capri By The Sea, still owned by the family, also has its own glamorous ties -- it was featured in the Miramax film "Flirting With Disaster." Suites sleep up to six people and include equipped kitchens, Internet access and beach supplies. Restaurants and shops are within walking distance, and it's a short drive across the Coronado Bridge to downtown San Diego.
Spanish Style
Mexico is visible from Coronado Island, a clear testament to the long, intimate relationship between California's southern neighbor and the San Diego region. El Rancho Motel features Spanish-style architecture and landscaping, with a central courtyard, tiled outdoor breakfast area and crisp white awnings. Guests can savor gardens planted with fragrant roses, camellias and jasmine before heading to the beach. The motel's on-site owner maintains the small venue, which contains just 10 suites. Rooms contain tiled bathrooms, open-beam ceilings, and microwaves and fridges.
Home Comforts
Coronado Island's Crown City Inn & Bistro offers extra touches like oatmeal-cranberry cookies, iced tea and cocoa for guests at this inexpensive retreat. Visitors can enjoy Mediterranean-tiled buildings, decorative water fountains, tiled courtyard and artistic murals. Basic rooms come with cable TV, microwaves and refrigerators at this pet-friendly inn. Children can access a cupboard filled with coloring books, bikes, books, boogie boards and wagons for hanging out at the beach.
Outdoor Enjoyment
Most people come to Coronado Island to enjoy the region's temperate weather, family-friendly parks, calm waters suited for snorkeling and sandy beaches. The Coronado Island Inn caters to outdoor enthusiasts by offering outdoor barbecue grills and picnic benches for preparing al fresco feasts. Toss some freshly caught ahi tuna on the grill, slice some locally grown avocados and heat some handmade tortillas from nearby Old Town for a delicious, San Diego-style meal. The motel also offers a swimming pool, free continental breakfast and in-room refrigerators.
Photo Credits
sailboats of san diego image by Janet Wall from Fotolia.com