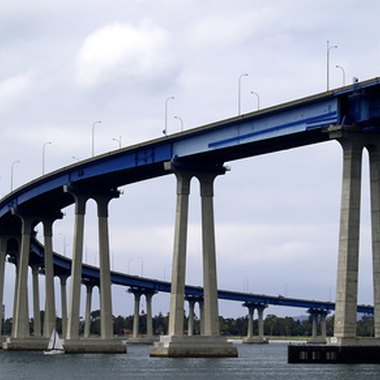 The movie "Some Like It Hot'' featured the iconic hotel affectionately known to locals as "the Del.'' The Hotel Del Coronado is where the 1958 movie classic starring Marilyn Monroe, Tony Curtis and Jack Lemmon was filmed. The Hotel Del is still imposing and lovely, and still a vacation destination just outside San Diego on a small island named Coronado, but it's not alone. Boutique and upscale chain hotels have taken up residence here to take advantage of the near-perfect climate and white-sand beaches.
Hotel del Coronado
"The Del'' was already famous before Marilyn Monroe romped on the beach here. This imposing, red-roofed hotel was conceived 120 years ago as a mecca for the rich and famous. Indeed, U.S. presidents, a parade of foreign royalty, Hollywood stars and business moguls have stayed and brunched to the sounds of a harp in the Crown Room, under enormous chandeliers shaped like a king's crown. Book rooms in the Victorian Building or in the more modern Ocean Towers or California Cabana wings. The hotel is a registered National Historic Landmark.
Glorietta Bay Inn
Glorietta Bay Inn is a boutique hotel just a block from Coronado's famous beach. This Southern California mansion, with its white wedding-cake appeal, is for those wanting the services and luxury of the Hotel Del, but without the size and bustle. The more intimate feel begins in the lobby, with its contemporary rattan furniture and palms. The swank but cozy vibe continues in the ornate Music Room, which features a grand piano, bookshelves and comfortable seating. The pool area is also intimate and plush, with padded lounge chairs and harbor views. Eleven rooms make up the Mansion itself, with more contemporary rooms in the wing buildings.
Coronado Island Marriott Resort and Spa
The ultramodern Coronado Island Marriott Resort and Spa enjoys a captivating view of downtown San Diego, right across San Diego Bay. The resort, with its 300 large guest rooms, leaves the wedding-cake look behind in favor of sharp, clean lines, and it takes its spa/resort reputation seriously. Three heated pools, several tennis courts, a health spa and surrey bike rentals, as well as the nearby Coronado beach, keep guests fit and hungry for the California cuisine at the hotel's two restaurants, Current and Tides.
El Cordova Hotel
The El Cordova was built in 1902 as a hacienda-style retirement mansion for a wealthy industrialist, Elisha Babcock. This charming boutique hotel across from the Hotel Del makes the most of its Mexico-style courtyards, with outdoor pool and whirlpool, as well as dining and drinking options in an enclosed, club-like atmosphere. The outside spaces are covered in bougainvillea, the beautiful flowered vine that grows so effortlessly in Southern California; likewise, the lobby is loaded with flowers and has a bright, rich look. Guest rooms and suites are spacious and have a mission-style serenity.
Photo Credits
coronado bridge, san diego, california image by Shannon Workman from Fotolia.com