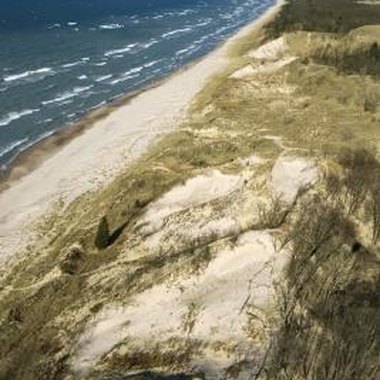 Hammond, Indiana, is a Midwestern small town. No matter what the season, you can find outdoor activities and indoor historical or educational displays. When you spend the day by the lake, learn about infamous G-men or get spooked by local spirits, you know you have experienced the cool places in Hammond.
Outdoor Places
Whether it's water or wetlands, Hammond has several outdoor activities. Off of Lake Michigan and known locally as the "Gateway to the Gulf," the Hammond Marina (hammondmarina.com) is more than a place to dock a boat. Special events occur here frequently throughout the year such as free boat tours, sailing lessons and a "Venetian Night." Landlubbers may prefer the nature preserve Gibson Woods (hammondindiana.com/gibwoods.htm). Hike through 178 acres of flora and fauna over prairie and wetlands. Look for gray foxes, minks and a variety of songbirds, as well as a wide variety of trees and shrubs including red maples and flowering dogwood.
Otherworldly Places
Hammond also has spooky-cool places to visit. The Reapers Realm (reapersrealm.com) is just one stop for this kind of fun. Scream your way through this three-floor 1930s stone mansion any time of the year. A haunted house, woods and "circus" keeps visitors busy for an hour or so, and an all-inclusive ticket means unlimited carnival rides and access. A current place for higher learning also holds a ghostly apparition or two. Bishop Noll Institute (bishopnoll.org) is a local college rumored to have paranormal activity. Ghost-hunting visitors may want to listen for otherworldly footsteps echoing on the second floor of the A wing or chairs falling for no apparent reason in the lab; students here can tell you ghostly tales if you only ask.
Sporty Places
Although there are no professional sports teams associated with Hammond, a few sporty options are around town. Pass the time at a golf course; the "Lost Marsh" course features world class challenges that will satisfy even the most accomplished golfer (no website; 1001 129th St.; Hammond; 219-932- 4046) Younger sports enthusiasts may prefer to spend their athletic time at a skateboard park like the "Hammond Skate Park" in Pulaski Park. Whether skating or just watching those that do, the half-pipe, vertical ramp and rails will keep everyone entertained for hours. (no website; Pulaski Park; 3728 S. Sheffield Ave.; Hammond)
Historical Places
Since Hammond is so close to Chicago, it is only reasonable that some of the seedier elements may have drifted in to Hammond at one time or another. A visit to the Indiana Welcome Center will take you back in time to the "G-men" of the1930s. The John Dillinger Museum (dillingermuseum.com) doesn't glorify crime but explores its past through items such as Dillinger's lucky rabbit foot and "death pants." Learn about the birth of the FBI as well through interactive displays. If you're after small-town history, stop in at the Little Red Schoolhouse and Museum (no website; 7205 Kennedy Ave; Hammond; 219-931-7559). This 1869 schoolhouse displays period desks, inkwells and school bell. A big part of the community, check the calendar of events for Hammond for special events revolving around this cool space.
Resources
Photo Credits
Jupiterimages/Comstock/Getty Images