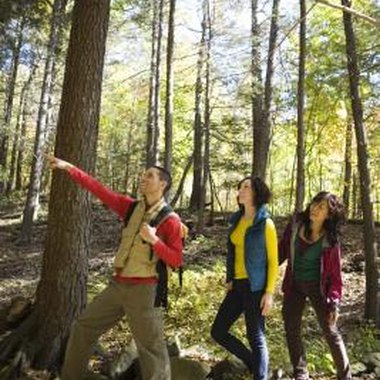 People living in the Illinois and Wisconsin areas are fortunate to have a number of enjoyable places within a short driving distance for a getaway weekend. Some of these feature the excitement of big city amenities. Others offer calmer pursuits in a natural environment. Whatever your preferences, you can choose from a number of destinations for a getaway weekend in both Illinois and Wisconsin without breaking your budget or tying up a long period of time.
Chicago City Weekend
Chicago is a big city with a warm heart and a wealth of activities to quickly fill a getaway weekend. The Field Museum, the Museum of Arts and Sciences, the Art Institute and the Chicago Symphony are just a few of the cultural pursuits you can enjoy any time of year on weekends in Chicago. For outdoor activities, ride a bike, skate or stroll along Lake Michigan. Shopping along Michigan Avenue and at the Watertower Mall is a popular pursuit when the weather turns cold. Enjoy the restaurants, shops and an amusement park at Navy Pier during the summer months. At night, visit the many venues for music that both visitors and native Chicagoans enjoy.
Galena, Illinois Weekend
On the western edge of Illinois along the Mississippi River, the small town of Galena offers visitors a wonderful weekend retreat. A number of accommodations are available in this quiet, unhurried area, including the Eagle Ridge Resort (eagleridge.com), a lodging and conference center nestled on 6,800 acres in the Galena Territory. Several types of accommodations are offered, including rooms, condominiums and homes for family events. Activities include a 220-acre lake with fishing, canoes, paddleboats and pontoons. The resort also features a heated pool, tennis courts, bike rentals, scenic hiking trails, hot-air balloon rides and a full-service spa, according to the Eagle Ridge Resort website. Visit the quaint, downtown area of Galena or visit one of the historic homes in the area.
Door County Wisconsin Weekend
Door County, Wisconsin, is on the northeastern tip of the state. This tranquil peninsula on the coast of Wisconsin offers an area of quiet beauty with five state parks, fishing, hiking, bike-riding, golfing, museums, shops and pick-your-own apple and cherry orchards. Door County has long been an artist's colony, so spend some time in the galleries finding your own perfect depiction of this beautiful spot on the Wisconsin shoreline.
Wisconsin Dells Weekend
If you like a more stimulating environment, try the Wisconsin Dells, an area just north of the Illinois-Wisconsin border. For decades, the Wisconsin Dells has offered entertainments for every taste, including nature areas, amusement parks, horse-drawn rides through the canyons, amphibious "ducks" that quickly go from land to water transport, gift shops, restaurants, rock-climbing, snowmobiling and more, according to the Wisconsin Dells website (wisdells.com). In winter and in summer, the Wisconsin offers a getaway weekend with something for everyone.
Photo Credits
Jupiterimages/Brand X Pictures/Getty Images