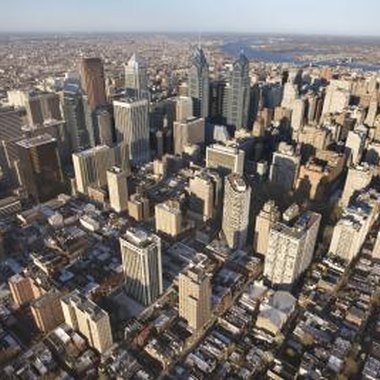 Throw a birthday, graduation, holiday or family party at one of the cool venues in the Philadelphia area. Philadelphia-area residents may host events for kids or adults at locations ranging from simple rustic spots to energetic party places to historic halls. Philadelphians have options for party venues that fit a variety of budgets and tastes.
Historic Venues
Connect with Philadelphia's history by holding your gathering in a Philadelphia historic site. Carpenter's Hall, the location of the First Continental Congress, allows partygoers to bond with the rich history of the city. Carpenter's Hall (ushistory.org) can accommodate up to 125 guests. The hall does not accept reservations during regularly scheduled public visiting hours. For an interesting naval venue, invite your guests to Moshulu (moshulu.com), a ship whose history as a world-traveling seafaring vessel dates back 100 years. You can host your party or other event on Moshulu, docked today at Penn's Landing. Moshulu has a capacity of up to 2,000, though smaller groups will find comfortable rooms for a more intimate event. Hosts have the option to request catering from the in-house chef.
Museums
Philadelphia's National Constitution Center (constitutioncenter.org) displays exhibits representing the history of the Constitution and holds parities at the museum. The Constitution Center can host large or small events in its rooms, or use the rooftop terrace to get a view of Philadelphia's historic landmarks. Hosts have the option to set up the area for an elegant sit-down dinner, as an area for cocktails or in any other arrangement that they choose. For a party venue with a rich artistic backdrop, the Philadelphia Museum of Art (philamuseum.org) offers the museum's Main Building, Rodin Museum or, with its skylight atrium, the Ruth and Raymond G. Perelman Building. The museum's on-site caterer takes care of the party's culinary needs, easing the hosting responsibilities of the party's hosts.
Party in a Park
Enjoy a relaxing low-budget birthday party at a Philadelphia park (phila.gov). Tell guests to bring their Frisbees, bats, balls and gloves and any other athletic equipment that will have them burning calories before you pull out a picnic basket lunch. If you want to reduce your workload, make the birthday celebration a potluck and ask everyone to bring something. Philadelphia has 75 parks, each with different amenities. Parks with grassy open spaces and large shade trees that provide a relaxing atmosphere include the Dickenson Park on Fourth and Tasker streets, the Konrad Square Park on Tulip and Dauphin streets, the Malcolm X Park on 52nd and Pine streets, and Overington Park on Leiper Street.
Clubs
Head to a Philadelphia club to celebrate your birthday in pulsating style if you are 21 or over. Chris' Jazz Cafe (chrisjazzcafe.com) on Sansom Street serves simple entrees, salads and soups in a homey atmosphere of true Philadelphia jazz. The live music includes jazz orchestras, Latin jazz, bands, soloists, vocalists and other jazz genres. The Fiso Lounge (fisoloungenightclub.com) on South Street maintains an ongoing Saturday night party with dancing on three levels of the club plus the rooftop. The club serves party platters of chicken wings, fried shrimp, pastry turnovers and hamburger patties.
Photo Credits
Jupiterimages/Comstock/Getty Images