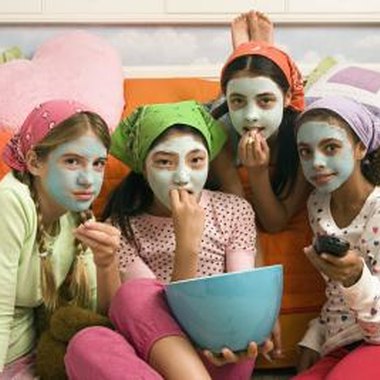 Movies are a staple of any preteen slumber party. Staying up all night and having a movie marathon is an essential component of party fun, so choose some movies that are age-appropriate and interesting enough to keep preteens involved in what's going on in the film. Humor, fun scares and romance are elements preteen girls love seeing in their favorite movies. Pick one theme for the whole night, or several types of movies to provide variety.
Classics
Renew preteens' interest in the old, fun movies you watched when you were a kid. Kids may not even realize some of their favorite flicks now are remakes, and sometimes the originals are much better. "Freaky Friday," "The Parent Trap," "The Wizard of Oz" and "Pollyanna" are a few old movies that are still entertaining. Give kids a taste of the '80s with movies like "The Karate Kid," "Back to the Future," "Pretty in Pink" and the hilarious "Adventures in Babysitting." Movies like "E.T." and "Gremlins" are also classic films that still resonate with today's kids.
Musicals
Get kids dancing and singing with some music-injected favorites. The "High School Musical" series is a well-known Disney franchise, and most kids know every word to the songs. Older films such as "Mary Poppins," "Grease" and "Annie" are good options as well. Pop in "Josie and the Pussycats," "The Cheetah Girls" or "Hannah Montana: The Movie," perfect choices for girls this age. Newer movies such as "Enchanted" and "Lemonade Mouth" are good slumber-party fare that combine heartfelt storylines with catchy music.
Scary
For preteens who want a scare without wanting to crawl into bed with their parents at the end of the night, check out some friendly scary movies to make girls this age feel a little spooked, but mostly entertained. The "Twilight" series is high on romance and plot, but low on fear factor. Other movies that are funny and scary are the "Addams Family" series, "Beetlejuice," "Monster House" and "The Witches." Bring a bit of Halloween to a slumber party with friendly fare such as the "Halloweentown" series or the cute "Twitches" movies.
Romance and Comedy
Preteen girls enjoy romance, but nothing too heavy. Funny movies that incorporate both romance and comedy will be a big hit. Some of these are the "Legally Blonde" movies, "Sixteen Wishes," "13 Going on 30" and "Aquamarine." "The Princess Diaries," "Ella Enchanted" and "Sisterhood of the Traveling Pants" are appropriate movies for girls this age and have sigh-worthy storylines, but lots of laughs, too. "Never Been Kissed" is a sweet story girls this age are sure to love.
Photo Credits
Jupiterimages/Brand X Pictures/Getty Images