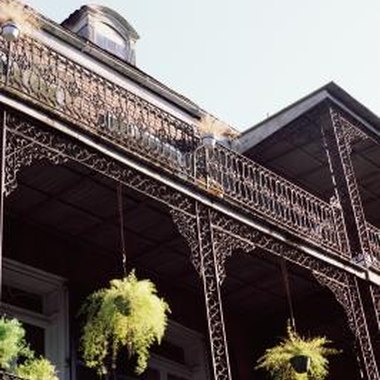 Whether partying down during Mardi Gras or reveling in the annual Jazz and Heritage Festival, the city of New Orleans beckons lovers of food, music and culture to one of America's great destinations. From the historic streets of the French Quarter to the elite neighborhoods of the Garden District, New Orleans offers visitors a wealth of lodging options within walking distance of nightlife, art galleries, music clubs and historic landmarks.
Andrew Jackson Hotel
Tucked away in the peaceful Vieux Carre neighborhood overlooking Royal Street, the landmark Andrew Jackson Hotel showcases the quintessential architecture of the French Quarter, including wrought-iron balconies and intimate courtyards. Listed on the National Register of Historic Places, the inn unveils a romantic atmosphere in each of its 22 guest rooms, outfitted with traditional ceiling fans, 18th-century style furnishings and private bathrooms with French toiletries. Each morning, continental breakfast is served in the hotel's Creole Courtyard with bubbling fountain. Guests enjoy proximity to nearby shops, restaurants and clubs in the French Quarter.
Hotel Monteleone
Featuring more than 600 rooms and suites, the historic Hotel Monteleone includes two award-winning restaurants on-site, as well as the world-renowned Carousel Bar, immortalized by Ernest Hemingway and other famous American authors. Showcasing a circus motif, the revolving bar is part of New Orleans history, a nightlife destination of visitors and locals alike. Hotel Monteleone's elite accommodations range from European-style furnishings and marble baths to dramatic floor-to-ceiling drapery, chandeliers, antiques and refreshment areas. Additionally, the hotel has been featured on NBC's "Today" and the Travel Channel as a haunted destination.
Hotel St. Pierre
Just steps from Bourbon Street, the Hotel St. Pierre features 74 guest rooms that occupy restored buildings from the 17th and 18th centuries. With tropical courtyards and two swimming pools, the hotel unveils French Quarter architecture highlighted by original brick walls, wooden shutters and balconies overlooking the Vieux Carre. For elite guests, the Jacuzzi suite offers a spacious sitting area, king-size beds and a whirlpool Jacuzzi spa. The hotel is on the National Register of Historic Places and also houses the New Orleans Jazz Museum.
International House Hotel
With its candlelit bar and Basque-style restaurant, the International House Hotel offers boutique accommodations in the Central Business District of New Orleans. Just two blocks from the French Quarter, the hotel features rooms and suites designed with crystal chandeliers, wrought-iron bedside tables, velvet-upholstered furnishings, granite vanities and tufted leather headboards. The hotel's fitness center offers a yoga menu, therapeutic massage, facials and pedicures. At the Loa bar, candlelight, crystal chandeliers, mirrors and luxurious fabrics make it an elegant spot for cocktails.
Photo Credits
Jupiterimages/Photos.com/Getty Images