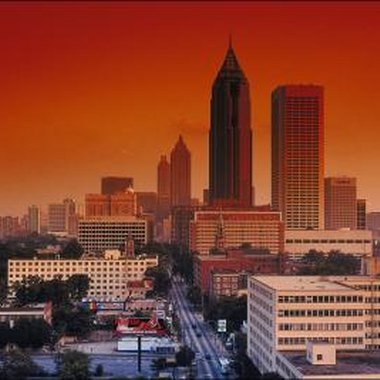 Atlanta, Georgia, draws business travelers to its Fortune 500 and Fortune 1,000 companies and leisure travelers looking to visit the world's largest aquarium and other attractions like Underground Atlanta and Stone Mountain Park. As the city grows, so does its lodging options. Whether traveling for business or for fun, consider staying in an out-of-the ordinary hotel to complete your Atlanta experience.
Hotel Indigo
Hotel Indigo stands out from the crowd because of its signature indigo color throughout its lobby and guest rooms. You know where this hotel got its name the moment you enter your room because of the deep blue and purple colors of the floor-to-ceiling murals on the wall of the guestrooms to the linens covering the bed and the chairs in the room. The boutique hotel welcomes pets of all sizes and types with no fees or deposits required. It has a 24-hour fitness studio, business center and on-site newsstand. Hotel Indigo's location across the street from the Fox Theatre and AT&T make it work for both business and leisure travelers.
Hotel Palomar
The zebra-patterned chairs in the lobby of Palomar show you from the moment you enter that you are not in a cookie-cutter hotel. This boutique hotel features modern guestrooms decorated in gray, brown and taupe with a splash of red here and there for interest and modern furniture designs. Each guests receives an animal print bathrobe to use during their stay in one of the rooms. The fully stocked honor bar in each room has organic snack options for health-conscious guests. The hotel has a fitness center, and personal trainers can be arranged for its guests. The in-room spa service brings luxury spa treatments directly to your guestroom during your stay. Bring your pet with you, and receive pet amenities to use during your stay, including beds, bowls, leashes and bags to clean up after your pet, for no additional charge. From this Midtown hotel you can walk to the Fox Theatre and Piedmont Park.
TWELVE Hotels
Atlanta has two TWELVE boutique hotels, one in Atlantic Station and one near Centennial Park. Both hotels boast one and two-bedroom suites with fully equipped kitchens complete with stainless steel appliances. These suites range in size from 690 to 1,200 square feet. All rooms at these hotels have an in-room computer monitor, keyboard, mouse and Ghost system, which allows them to go online and access hotel information without a computer of their own, and the hotels also offer Wi-Fi services for those traveling with laptop computers. On-site amenities at both hotels include an outdoor swimming pool with poolside snacks, business center and fitness center. TWELVE Atlantic Station's onsite restaurant, LOBBY, serves American cuisine from a wood-burning grill, while ROOM at TWELVE Centennial Park, named the Best Downtown Hotel Restaurant by "Atlanta" Magazine in 2008, serves steaks and sushi.
The Mansion on Peachtree
If you are looking for top-rated place to stay in Atlanta, consider the Mansion on Peachtree, a Forbes four-star-rated hotel in the Buckhead neighborhood. Each guest has a professionally trained butler to attend to his or her needs. This hotel works well for couples looking for a romantic retreat, with fresh flowers delivered to the room daily and beds covered in velvet and satin sheets. All guests receive a complimentary bottled water with their turndown service. Services offered at this hotel include 24-hour in-room dining service, complimentary shoeshine, a spa, indoor pool, gardens and fitness center.
Photo Credits
Jupiterimages/Photos.com/Getty Images