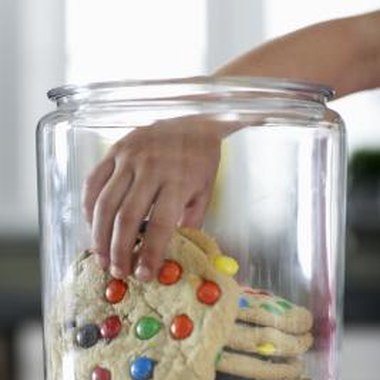 Cookie Monster, one of Sesame Street's original characters, is covered with blue fur and constantly eats cookies and even things shaped like cookies. If monetary limits are not a concern, you could purchase Cookie Monster decorations from a party supply establishment or Internet site. However, you can also transform paper and craft supplies into decorations for your child's party.
Wall Decor
Cut a Cookie Monster shape from a piece of blue mural paper and tape it to the wall of the party room. Cut cookie shapes from tan construction paper and draw dark brown chocolate chips with a marker. Position the cookies in an arc shape over the paper Cookie Monster and tape letters saying "Happy Birthday" on the cookies. Include the party guests in creating decor by printing Cookie Monster coloring sheets and temporarily adhere them to the wall with removable poster putty.
Table Centerpiece
Create a Cookie Monster centerpiece by covering a floral foam dome or half deflated play ball with papier mache. Cover another round balloon and two elongated balloons with paper mache and allow all of them to dry completely. Tape the round balloon to the dome as a Cookie Monster head and adhere the two elongated papier mache sections for arms. Papier mache the seams together and allow the entire shape to dry again. Spray adhesive over the form and cover it with blue faux fur from the craft store. Glue a felt mouth and eyes over the fur for a festive centerpiece.
Wearable Decorations and Favors
Roll blue construction paper into a cone shape and glue on a pair of felt eyes and a Cookie Monster mouth to make a party hat. Enclose homemade chocolate chip cookies in blue cellophane favor bags to adorn the guest tables; these not only align with the theme but allow guests to take a bit of the party home with them.
Edible Decor
Birthday cake remains part of the party decor until it is consumed by party guests. Decorate cupcakes to look like Cookie Monster himself. Lightly spread blue frosting over the top of a cupcake and use a star tip to pipe fur-like icing over the entire top. Pipe white icing eyes with black retinas and a black mouth. Sprinkle cookie crumbs down the chin of the cupcake monster. Adapt the edible decor to one large cake as another option. Melt blue and tan candy melts in the microwave and dip fresh fruit pieces in them. Alternate between pressing blue-covered fruit and tan-colored fruit onto skewers for another sweet treat. Press the end of the skewer into a floral foam filled cookie jar like a fruit bouquet.
Photo Credits
Thomas Northcut/Digital Vision/Getty Images